Jaguars win over Lions 63-6
The Jaguars won against the Lansing Lions 63-6 on Friday, Oct. 8, making this their largest victory of the season.
In the first quarter of the game, junior Tristan Milne, senior quarterback Logan Koch, senior Lucas Krull and senior Christian Jegen each scored a touchdown, making the score 28-0 after four good PATs.
During the second quarter, Jegen scored another touchdown and senior kicker Andrew Hicks' kick was good for the PAT, increasing the score to 35-0 Jaguars. Senior Seth Burnett intercepted the ball, and, immediately afterward, Milne ran the ball in for a touchdown. With a PAT, this brought the score to 42-0 Jaguars. Koch scored two more touchdowns and Hicks scored two more PATs in the second quarter and brought the score to 56-0 Jaguars at the half.
In the third quarter, sophomore Ike Valencia scored a touchdown. Hicks's kick was good for the PAT and brought the score to 63-0 Jaguars.
The Jaguars almost kept the Lions scoreless, but the Lions scored a touchdown with 4:30 left in the game. The kick for the PAT was not good.
Head coach Joel Applebee felt that the team was well prepared for the game against the Lions.
"I just felt like our kids prepare really well," Applebee said. "We know coming into the game that, if they execute well, they're going to do a really good job."
Senior cornerback Joe Wilson also thought the team was prepared because it spent a large portion of its time studying the Lions' plays.
"We've watched a lot of film and we've been going through their plays and practicing," Wilson said. "We just looked at what they would do."
While Applebee and Wilson both felt ready for the game against the Lions, sophomore quarterback Brody Flaming thinks the team will have to practice even harder for the matchup next week. The Jaguars will face the St. James Academy Thunder away on Friday, Oct. 16.
"I think we will just have a great week of practice and try to have a better week of practice than we did this week," Flaming said. "We'll just play our hardest all week and beat St. James."
(Visited 14 times, 1 visits today)
About the Writer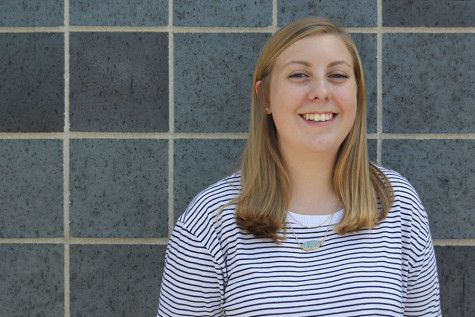 Kat Anglemyer, JAG editor-in-chief
Senior Kat Anglemyer is co-editor in chief of the JAG yearbook. She will also serve as a writer and a photographer on the staff. In addition to yearbook, Anglemyer is a member of NHS, SLT, Student Ambassadors, band, colorguard and the bowling team. She also enjoys watching Netflix, painting, cats and cooking.