Jaguars victorious over Chieftains
The Jaguars beat the Tonganoxie Chieftains 55-51 on Tuesday, Feb. 25
The Jaguars came out with a 55-51 win against the Tonganoxie Chieftans on Tuesday, Feb. 25. This night marked the annual Senior Night for the 2013-14 boy's basketball season. This season's seniors include Drew Boatwright, Davis Cantwell, Ben Carroll, and Nick Friesner.
Sophomore Kasey Conklin believes the seniors have had a positive impact on the team this year.
"The seniors have impacted the team in a good way. They play hard and bring energy to the team," Conklin said.
The Jaguars trailed 6-2 with 3:46 to play in the first quarter. They then put eight points on the board to end the quarter 10-10, with three pointers by Friesner and Conklin.
Conklin started the second quarter with another three giving the Jaugars a 13-10 lead. Only three pointers followed in the remainder of the quarter, to put the Jaguars ahead 22-20 at the half.
Up at half, the Jaguars knew they had to keep the momentum.
"We had to keep doing what we were doing, play hard and with a lot of passion," Conklin said.
In the third quarter sophomore Clayton Holmberg put 14 points on the board helping the Jaguars keep the lead. With 5:18 to play in the third quarter, the Jaguars lead 28-25. By the end of the quarter the Jaugars kept a steady lead, up 38-34.
The game came down to the fourth quarter when the Cheiftains pulled the score to 43-42 with 4:11 to play in the game. The Jaguars scored seven points in the last minute of the game securing the win.
"We'll improve off of this win, and use it to prepare for the post season," Conklin said.
The team's next game will be on Thursday, Feb. 27 against the Basehor-Linwood Bobcats.
(Visited 29 times, 1 visits today)
About the Writer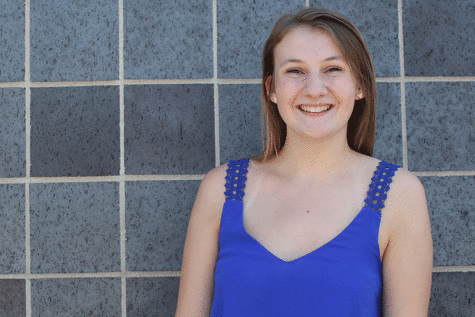 Tori Aerni, JagWire editor-in-chief
This is senior Tori Aerni's third year on the JagWire staff and her second year as an editor-in-chief. She looks forward to spending another year with the JagWire staff and putting out eight eye-catching issues of the paper. Aerni is also involved in NHS, SLT, Student Ambassadors and her church's youth group outside of the JagWire. She's a fan of concerts, the Kansas City Royals, chocolate milk and God. Her favorite artists include Taylor Swift,...