Jaguars fall to Bobcats 59-47
Boys basketball team falls short of win against Basehor-Linwood to make record 1-4
See more basketball coverage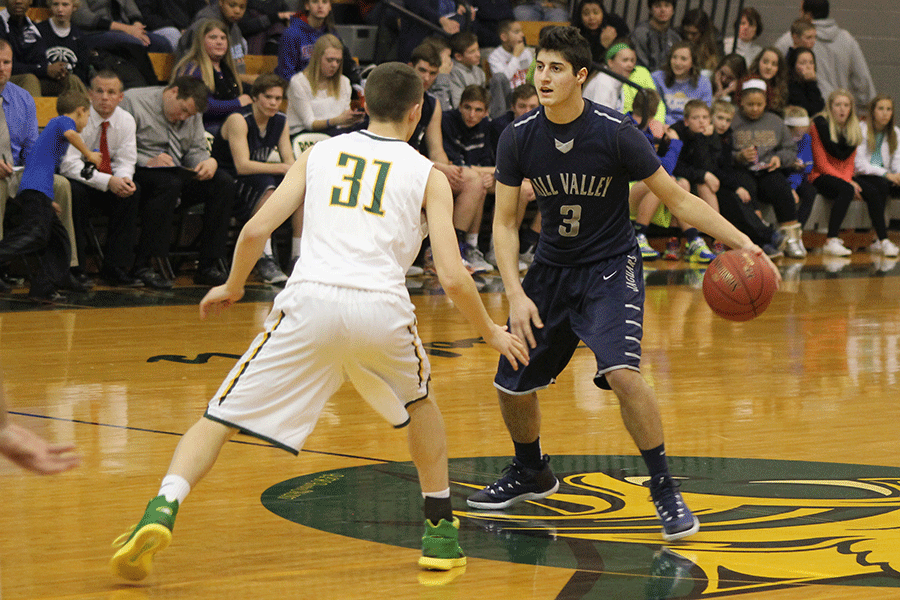 The boys basketball team fell to the Basehor-Linwood Bobcats 59-47, on Tuesday, Jan. 6 putting the team's record at 1-4.
While the Jaguars fell short of a win, junior Tanner Jenkins saw many positive aspects of the game.
"We played as a team," Jenkins said. "They are a championship caliber team and I think we competed with them. If we would have had shots fall I think we really would have been in the game a little bit more."
Junior Clayton Holmberg score the first basket of the game to put the Jaguars up first, but by the end of the first quarter the Jaguars trailed the Bobcats 13-8.
"We had a bad first quarter; that was our downfall of the game," Holmberg said. "We could've played better defense. We had some mental lapses."
The second quarter played out similarly to the first quarter. The Bobcats outscored the Jaguars by eight points making the score 29-16 at halftime.
Even with a 13-point deficit at the half, Holmberg kept his head up for the second half.
"We were not discouraged at all. We knew we just had to come out there and take care of the ball," Holmberg said.
Junior point guard Logan Koch started the second half with five consecutive points to bring the Jaguars within eight points of the Bobcats.
Free throws by Holmberg and senior Evan Kopatich at the end of third quarter brought the score to 37-30. While the Jaguars outscored the Bobcats 14-9 in the quarter, the team was still trailing 37-30.
The third quarter seemed to be the strongest point of the game for the Jaguars for Jenkins.
"[Holmberg] and I definitely outrebounded them," Jenkins said. "[Basehor-Linwood's] pace was fast but I think we ran our offense pretty well."
The fourth quarter brought in the most points of the game for both teams, but the Bobcats came out on top with a 59-47 victory.
The team will play the Bonner Springs Braves on Friday, Jan. 9 at 7 p.m. at home.
"Coach [Mike Bennett] always wants us to go up and down the court fast," Jenkins said. "That's what we'll really be trying to achieve [against Bonner Springs]."
(Visited 22 times, 1 visits today)