Jaguars defeat Olathe Northwest 63-45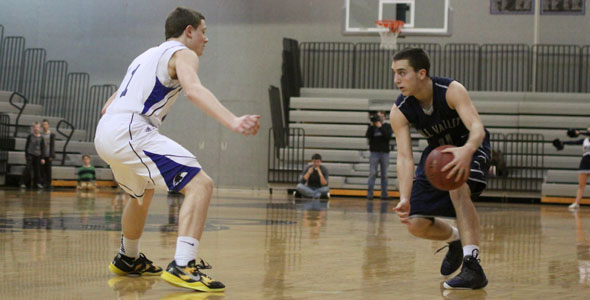 The Jaguars brought home a 63-45 win against the Olathe Northwest Ravens on Friday, Jan. 25.
After trailing by 11-points in the first quarter, senior forward Nathan Stacy and sophomore center Patrick Muldoon led the team to turn around the game. Their combined 37 points rallied the team to numerous fast break points.
Muldoon said that the Jaguar's recovery from the Ravens quick lead was the best way to display the team's improvement.
"We've been working real hard on offense in practice and focusing on finishing up at the rim," Muldoon said. "Defense created our offense Friday night. Without our tough defense the offense wouldn't have come back so easily."
The consummate moment of the night was Muldoon's dunk at the end of the first half.
Junior Emily Meier said that Muldoon's dunk set the mood for the crowd for the rest of the night.
"I have never seen our student section get so excited," Meier said. "There was no way we could have lost, not with our crowd cheering the team on like that."
The Jaguars led by 11 at the end of the half.
Freshman point guard Logan Koch scored the only three pointer of the night for the Jaguars and finished with 14 points. Stacy finished with 21 points, Muldoon added 16 and junior shooting guard Wyatt Voorhes scored 10.
Voorhes said that the team couldn't have rallied back from a low scoring start to the game without the support of the crowd.
"We came out a little flat," Voorhes said. "But after some big plays the crowd got behind us and fueled us the rest of the game."
The Jaguars play at home against Piper High School at 7:15 p.m. on Tuesday, Jan. 29.
(Visited 5 times, 1 visits today)
About the Writer
Alana Flinn, JagWire editor-in-chief
Alana Flinn is a third year staffer who is looking forward to a year full of new experiences. As editor-in-chief, Flinn hopes to finally win a Pacemaker for Mill Valley News while maintaining the quality of JagWire. She will also continue to report on her favorite sport, football. Flinn's favorite quote is: "Every person you meet, every single one, is looking for their story. There are no exceptions. You become part of it by how you treat them." -Anonymous