Jaguars defeat league rivals 64-42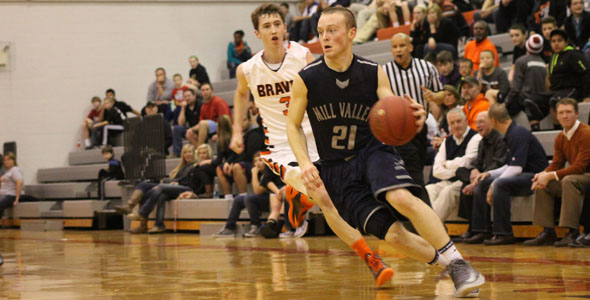 The Jaguars beat their league rivals, the Bonner Springs High School Braves, 64-42 on Friday, Jan. 11.
Senior shooting guard Staton Rebeck said that defeating the league rival at their court was a good way to improve for upcoming games.
"It's always a great feeling beating a rival, especially at their place," Rebeck said. "But we know that we have much bigger games ahead of us and need to prepare for them by winning each game ahead of us one at a time, which is what we did at Bonner."
Senior point guard Kyle Kain started the game with a three-pointer within the first 13 seconds. The first quarter was comprised of senior forward Nathan Stacy and junior shooting guard Wyatt Voorhes assisting in and taking a majority of the shots. Sophomore center Patrick Muldoon and senior forward Brett Hamilton also added to the score, finishing the first quarter with a score of 17-10, Jaguars.
During the second quarter, the Braves had numerous blocks and steals which led to a 2-point lead by the Jaguars.
Muldoon said that the small scoring gap came from a loss of focus during the game.
"We got too caught up in the scoreboard and thought we had the game," Muldoon said. "We were forcing [the game] too much and needed to let the game come to us."
Four of seven free throws were made in the second quarter along with layups by Hamilton and Voorhes, finishing the first half 32-23, Jaguars.
The third quarter began with Stacy adding 2 points from free throws. With 4:17 left in the quarter, Voorhes scored a layup to bring the score to 36-23, Jaguars. Freshman point guard Logan Koch added three points with three minutes left. The quarter finished out with a block by Muldoon and an attempted 3-point shot by Voorhes.
The fourth quarter began with Voorhes assisting junior shooting guard Drew Boatwright for two points. With 6:46 left in the game, Stacy passed to Hamilton for another two points. Senior forward Austin Moylan came into the game for the first time all night and quickly added two points to the score. The game ended with junior forward Davis Cantwell completing two free throws and a score of 64-42, Jaguars.
Muldoon said that the way the Jaguars finished out the game was a strong indicator of a team that has grown in the past years.
"We came out in the fourth quarter strong. We realized that Bonner will be Bonner and come back just like they did last year when we lost to them twice," Muldoon said. "We didn't want a repeat of last year, so we played our own game."
The Jaguars next game will be the first round of the Coffeyville Invitational at 9 p.m. on Thursday, Jan. 17.
(Visited 6 times, 1 visits today)
About the Writer
Alana Flinn, JagWire editor-in-chief
Alana Flinn is a third year staffer who is looking forward to a year full of new experiences. As editor-in-chief, Flinn hopes to finally win a Pacemaker for Mill Valley News while maintaining the quality of JagWire. She will also continue to report on her favorite sport, football. Flinn's favorite quote is: "Every person you meet, every single one, is looking for their story. There are no exceptions. You become part of it by how you treat them." -Anonymous