Jaguars defeat KC Southwest Indians 42-6
Jaguars improve record to 4-0 with win over the Indians
The Jaguars won against the KC Southwest Indians 42-6 on Friday, Sept. 25, remaining undefeated.

In the first quarter of the game, senior quarterback Logan Koch, senior running back Christian Jegen and junior running back Tristan Milne scored touchdowns.
Koch and sophomore running back Ike Valencia each scored a touchdown in the second quarter to bring the score to 35-0 Jaguars. The Indians remained scoreless throughout the first half.
"[After the touchdown], I felt really good," Valencia said. "It was my first one of the game, so I was pretty pumped up."
With 6:56 left in the third quarter, sophomore quarterback Brody Flaming ran the ball in five yards for a touchdown. With the PAT, the score increased to 42-0 Jaguars.
The Indians scored a touchdown within the last few seconds of the game, and the game ended 42-6 Jaguars.
While the Jaguars did not keep the game scoreless, head coach Joel Applebee was pleased with how the game went.
"Obviously we want to hold them at zero. That's always the goal," Applebee said. "I was just proud of the way the kids played."

With over half of the student body attending the Homecoming game last week against the Derby Panthers, Applebee wanted to show his appreciation for the students. So, the Jaguar football staff bought 100 pizzas for the student section.
"We just wanted to thank the students because they've been great all year," Applebee said. "We want them to continue to be great, and I know they will."

The Jaguars will face the Staley Falcons at home on Friday, Oct. 2.
(Visited 22 times, 1 visits today)
About the Writer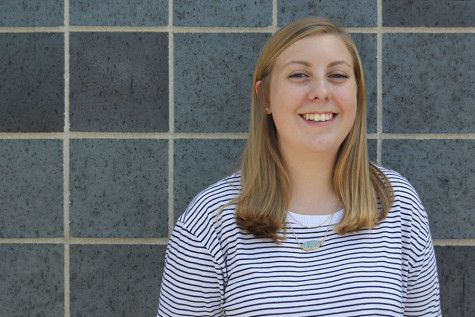 Kat Anglemyer, JAG editor-in-chief
Senior Kat Anglemyer is co-editor in chief of the JAG yearbook. She will also serve as a writer and a photographer on the staff. In addition to yearbook, Anglemyer is a member of NHS, SLT, Student Ambassadors, band, colorguard and the bowling team. She also enjoys watching Netflix, painting, cats and cooking.