Jaguars advance to sub-state championship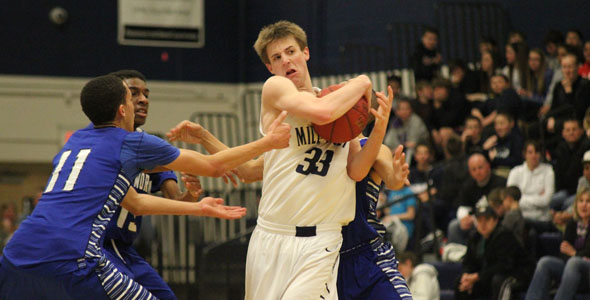 The Jaguars brought home a 72-63 win against the Leavenworth High School Pioneers on Thursday, Feb. 28 that will advance them to the sub-state championship.
Senior Nathan Stacy said that Leavenworth was a good preparation for their sub-state championship.
"I think both teams have similar play styles, where Washington is clearly the better team," Stacy said. "But, it will prepare us to play another quick, athletic team."
The first quarter was dominated by many missed scoring opportunities and turnovers and ended with a score of 8-8.
The tie after first quarter between the teams showed Stacy what needs to be improved for the game tomorrow.
The Pioneers began scoring numerous three-pointers to capture a 27-23 lead at the half.
The Jaguars came back to start the second half strong, led by Stacy. He accumulated 10 points in the third quarter and helped hold the lead at five points three times during the third quarter. The third quarter ended 47-44, Jaguars.
The Jaguars answered in the fourth quarter with their biggest lead of the game, outscoring the Pioneers 25-19 in the fourth quarter.
The Jaguars will play at home in the sub-state championship game against Washington High School on Saturday, March 2 at 7 p.m.
Stacy said that this game was a good way of showing what needs to be improved for the game tomorrow.
"We want to be more patient on offense and really feed the ball down low," Stacy said. "We need to work on boxing out and rebounding, too."
(Visited 18 times, 1 visits today)
About the Writer
Alana Flinn, JagWire editor-in-chief
Alana Flinn is a third year staffer who is looking forward to a year full of new experiences. As editor-in-chief, Flinn hopes to finally win a Pacemaker for Mill Valley News while maintaining the quality of JagWire. She will also continue to report on her favorite sport, football. Flinn's favorite quote is: "Every person you meet, every single one, is looking for their story. There are no exceptions. You become part of it by how you treat them."...