Jaguar volleyball team wins Hayden tournament
Jaguars also beat 6A rival Blue Valley in the same week
The 16-4 Jaguars Volleyball team finished a strong week of play by winning a tournament and beating a top 5A opponent
The 16-4 Jaguar volleyball team won its match against the Blue Valley High School Tigers on Thursday Sept. 19. The match started with Blue Valley winning the first set , 27-29 , and the Jaguars coming back to win the second set, 25-17. Then it came down to the final set that would determine the winner. After a long and back and forth battle the Jaguars came up on top, 25-20.
Middle hitter Alicia Pickett was very proud and excited after her team won the game.
"I think we played well and lots of people stepped up [to help win]," Pickett said.
Libero Katelyn Jackman was a little shaky before the game but that didn't stop her from helping the Jaguars pull of a win.
"At first I was nervous, but I knew I had to step it up and help my team win," Jackman explained.
Jackman had many things running through her mind after her team won the game.
"I'm proud of how we performed tonight, no matter how far we got behind we always came back," Jackman said.
The Jaguars would end up falling to the Blue Valley West High School later that night with a loss in three sets.
Despite their loss, the Jaguars finished first in the Hayden invitational on Saturday, Sept.21, by beating Bishop Ward, Topeka Hayden, Silver Lake and 5A state rival St.Thomas Aquinas.
Pickett was overjoyed after her team's successful performance.
"It felt amazing [winning]," Pickett said. "I'm really proud of how we pulled together to get the win."
(Visited 20 times, 1 visits today)
About the Writer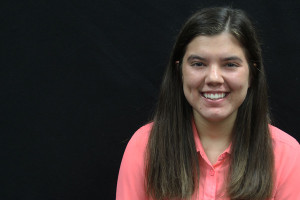 Erika Kringen, JagWire briefs editor
Sophomore Erika Kringen is a first year JagWire staff member. Kringen has been involved in many sports and activities since starting high school. She has ran track, cross country and plans to join the swim team in the spring. Erika Kringen is  in the musical , student ambassadors,and is a freshmen mentor this year. Kringen is looking forward to writing many stories and meeting new people while being a member of the JagWire staff.