JagPRIDE holds seminar self-defense class for students
Members of the American Sport Karate Center led the class to promote National Self-Defense Month
JagPRIDE held a self-defense class for students to participate in during seminar in the main gym on Wednesday, Jan. 31.
JagPRIDE wanted to use the self-defense class as a way to promote National Self-Defense Month which takes place in the month of January. Approximately 20 students attended the class led by representatives from the American Sport Karate Center..
According to junior JagPRIDE member Grace Lovett, the purpose of the self-defense class directly correlated with the mission of JagPRIDE.
"The main purpose of JagPRIDE is to promote self improvement and self love," Lovett said. "If this class eased some worries on how well the people that participated think they can protect themselves, we achieved our goal."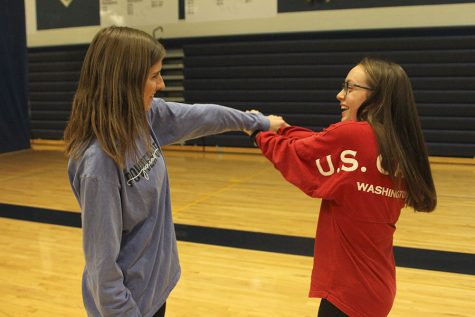 The desire to enhance the safety of students motivated Gudenkauf and the other members of JagPRIDE to hold the self-defense class.
"Self-defense is all about keeping yourself and other safe which is a goal of JagPRIDE," Gudenkauf said.
JagPRIDE sponsor Debbie Gudenkauf hopes students who participated became more prepared in case they ever feel threatened.
"I hope that students learn to be more aware of their surroundings," Gudenkauf said. "I also hope they learn how to react should they find themselves in a dangerous situation."
Throughout the class, participants learned various self-awareness skills and how to escape threatening situations. Black belt students from the karate center helped guide participants by giving
them feedback, which Lovett found to be helpful.
"I personally enjoyed the opportunity [because] we got to have our technique observed by the black belts," Lovett said. "Having reassurance that you're doing everything right can give people more confidence if they find themselves in a situation where they need to use it."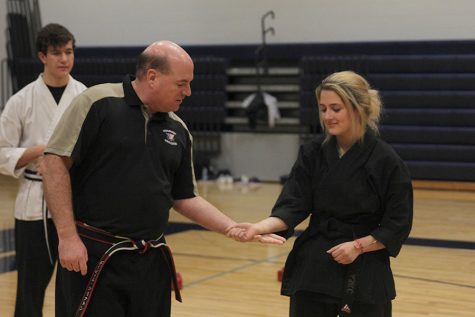 Lovett believed the information and strategies covered in the class could be very useful to the participants.
"I hope people learned some tips and techniques that could potentially get them out of a negative situation," Lovett said. "The fact of the matter is there are 2000 young people that go missing in a day and the advice that was taught in the class can save lives."
Self-defense classes are something Lovett hopes JagPRIDE will continue to offer in the future.
"I can see JagPRIDE holding another self-defense class," Lovett said. "It's hard to learn about a topic in the time restraints of seminar, so it would be nice to have more classes."
(Visited 140 times, 1 visits today)