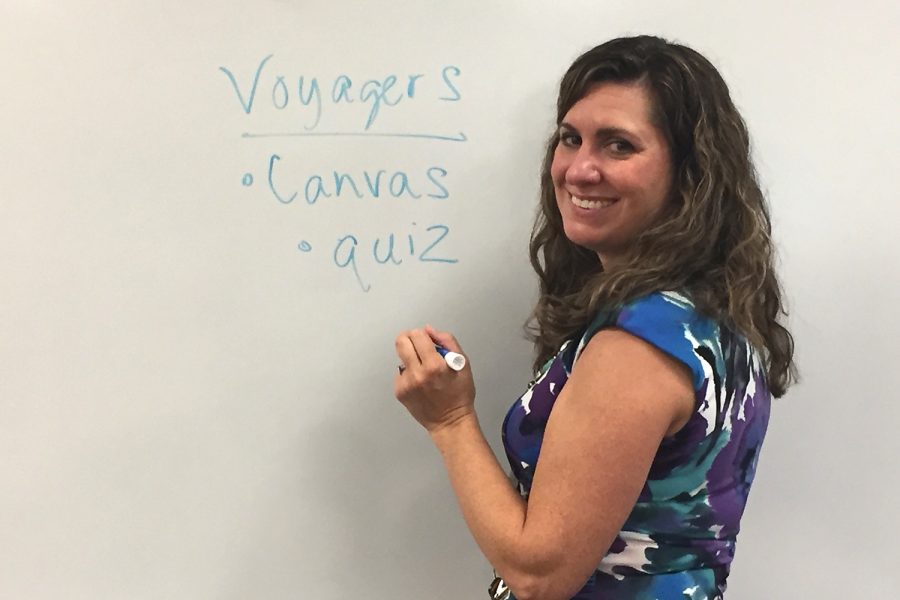 Inga Kelly, Gifted Facilitator
JagWire: Tell us a little about yourself.
Inga Kelly: "I'm coming to Mill Valley after spending the last three years teaching at De Soto High School. I am married, I have two kids, and I'm  a pet parent to the cat that came with our house. (She was on the porch the  first time we looked at the house and she just kept coming back so we decided to keep her)."
JW: Describe your college experience.
IK: "I received my BA in English/Speech Communication from Baker University and my M.Ed. in Curriculum and Instruction from Rockhurst University. I've also taken other various courses over the years for additional teaching endorsements."
JW: Why did you decide to go into teaching? 
IK: "In high school I never planned to be a teacher, but after college, I worked in Public Relations for three years. When I was in Baltimore working with high school youth ambassadors for one of our clients and I felt genuinely excited to go to work for the first time. They offered me a job, but instead of moving to Baltimore, I came home and enrolled at Rockhurst to earn my Master's degree and get my teaching certification."
JW: What do you enjoy about teaching? 
IK: "My favorite part of teaching is making connections with students and supporting them in
recognizing their potential. Every day is different which keeps things interesting."
JW: What is your experience with teaching high school students? 
IK: "I have worked with high school students teaching various English, Service Learning, Debate, Forensics, Communications, and Gifted courses over the last 16 years."
JW:What do you want students to know about you? 
IK: "Working with [students] allows me to continue to be a kid at heart. These days I worry more about breaking a hip than being hip, but I'm glad that I will at least know the apps, memes, music, etc. that "the kids" are into as my own kids enter their tween and teen years."
JW: What hobbies do you have?
IK: "I love to read, cook, hang out with my family, and help Mr. Copeland and Mr. Howard at Stageworx in the summer."
JW: What is an interesting fact about
IK: "I danced on stage with Vanilla Ice in the late 90s/early 2000s. (It was awkward)!"
(Visited 7 times, 1 visits today)