Hybrid schedule change announced at board meeting
The schedule change, which will take effect Monday, Nov. 9, modifies the hybrid model for middle and high school students
Ben Wieland, Mill Valley News editor-in-chief
November 2, 2020
Superintendent Frank Harwood announced changes to the hybrid schedule for middle and high school students at a board meeting Monday, Nov. 2. Under the new "A/B hybrid" schedule, there will be no more remote-only "C" days, and students will be asked to check in with all four teachers on all remote learning days. 
The new schedule will begin for secondary students with the start of the second quarter Monday, Nov. 9. 
According to Harwood, the decision was made after discussions with secondary principals and an evaluation of the current hybrid schedule. Harwood explained how he and the educators decided on the model after considering a few options for modifying the hybrid schedule.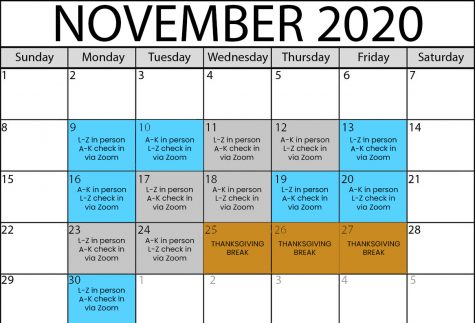 "There was a strong consensus on the A/B model," Harwood said. "It decreases the amount of time between students seeing teachers, and the model had less logistical hurdles to overcome than the alternatives."
While the board did not vote on the proposed changes as they were already approved by principals, board member Stephanie Makalous voiced her support for the change.
"Our students will have more contact with their teachers, and I think that's a step forward," Makalous said.
At the meeting, no discussion of changing learning models took place amongst the board because the COVID-19 advisory committee had not recommended a change. However, during patron input, teachers and parents weighed in on the issue. 
Teacher Kathy Kappes-Sum urged the board not to switch to full-time learning, arguing that the switch would require safety precautions like social distancing to be violated. 
"None of us want to do school the way we are right now. But we are doing the best we can while living through an international crisis," Kappes-Sum said. "Before you send all kids to school, think about what you are asking of teachers afraid of contracting this virus."
District parent Rob Daniels, on the other hand, urged the board to consider reopening. 
"The reason we shut down in spring was not to stop the spread of COVID," Daniels said. "Let's say hybrid is working for 70% of students. That means it's still failing for 30% of them."
"
Before you send all kids to school, think about what you are asking of teachers afraid of contracting this virus."
— teacher Kathy Kappes-Sum
Harwood also announced logistical changes regarding COVID-19 within buildings. Temperature checks will no longer be required at the door, and saliva PCR tests will now be made available to students and staff who show COVID-19 symptoms.
In addition to new PCR test offerings, the district will consider participating in a trial for rapid antigen tests. The tests are not yet considered reliable by either the Kansas Department of Health or the Johnson County Health Department, but they can return results within 15 minutes of testing.
Technology integration specialist Cindy Swartz also briefed the board on upcoming expansions to the district's career and technical education offerings, headlined by a new Cedar Trails Exploration Center building under construction near Mill Creek Middle School.
The building will offer classes to district juniors and seniors in bioscience, design, and emerging technologies. As the building prepares to open, course offerings will be finalized. Swartz also noted that the district will offer an Introduction to Organic Chemistry course next year.
A video produced by MVTV reporters Emily Feuerborn and Emma Hookstra updated the board on recent renovations at Mill Valley, including the newly constructed theater, gym, and fieldhouse.
The board also watched a video compilation highlighting artwork from students at each school across the district.
To start, some good news: a video shown to the board showcased artwork from students in every school across the district last year! pic.twitter.com/NqLReJAfdm

— Mill Valley News (@millvalleynews) November 3, 2020
The next scheduled board meeting will take place Monday, Dec. 7 at 6:00 p.m. However, if the COVID-19 advisory committee recommends changes to the district's learning model, a special meeting may be called before that date.
(Visited 1,268 times, 1 visits today)