Horse stable blends work with home for local family
Nelson family gains unique experience through owning and operating Twin Mill Farm
May 26, 2016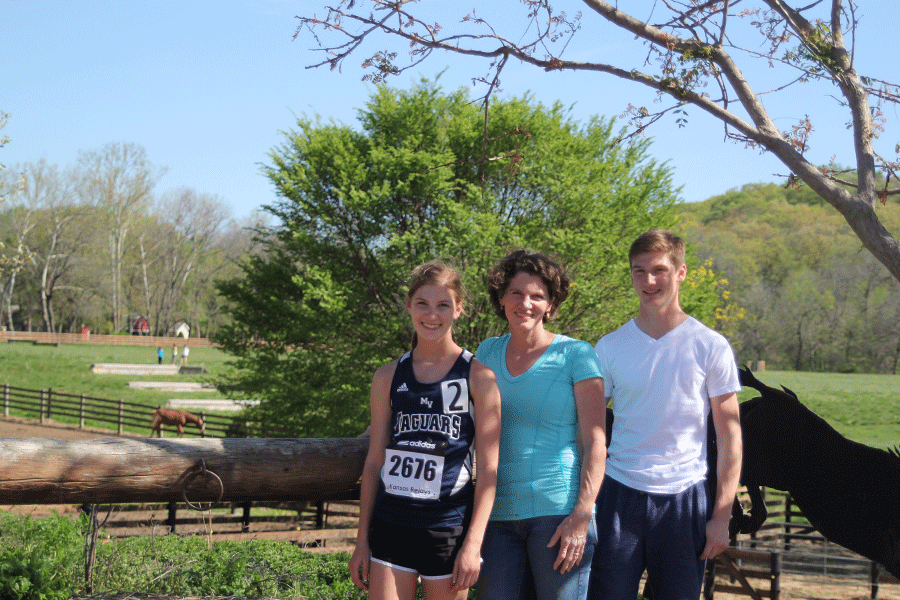 Somehow, walking on the dirt paths through Twin Mill Farm makes you feel at home. Maybe it's the peaceful landscape off in the distance, maybe it's the smiling faces of employees walking horses to the barn, or maybe it's the fact that, for the Nelson family, Twin Mill Farm really is home.
Located on Midland Drive, right off Shawnee Mission Parkway, Twin Mill Farm is a boarding stable that cares for horses and provides a variety of activities for owners to enjoy with their horses, such as trail riding, Pony Club, a cross country jumping course, games and competitions.
Junior Nick Nelson, sophomore Britton Nelson and their parents, Courtney and John Nelson, live on the property, making running the stable a full-time job for Courtney and John. The stable has been in the family since 1990, when Courtney's parents purchased the land, and then was handed over to her and John after they got married in 1996.
While the stable boards about 50 horses at a time, the Nelsons own six themselves. For Courtney, horses have always been a passion, and running a horse stable has been a dream since she was little.
"I've always loved horses. That's huge for me, I think I've always wanted to be doing this. Then, the people and the atmosphere. It's a bunch of people who like horses too, so that makes it fun," Courtney said. "When you're living here, taking care of the horses, I don't get as much time to ride as I would probably like, but sometimes just being around the horses is enough."
The land that the Nelson's own now wasn't always used for boarding horses, though. The farm sits on historical land that President James Buchanan granted to the family of a Shawnee Indian in 1859 as part of a Native American relocation plan. In addition, the barn is also located on Lawrence Road, which is part of the historical California Trail.
Besides the history behind the land, however, Courtney also finds other reasons to be satisfied with the stable's location — it sits on 60 acres of land with wooded trails that ajoin with Shawnee Mission Park. For Shawnee residents, it's also closeby.
"We've got a great location," Courtney said. "We're right here in Shawnee, whereas a lot of other barns have moved way out south or a few up north. So that's nice, convenience."
One of the biggest things the Nelsons enjoy about Twin Mill Farm is that it's relaxed. Nick said this is one of the factors that he feels makes the stable unique.
"I think it's really cool because it is so laid back. There's not a whole lot of drama that goes on out here," Nick said. "Everyone's really friendly, they come out and ride their horses and make friends."
Courtney believes this laid back atmosphere is important for any horse stable, especially considering how many people use horses as a form of relaxation and destressing.
"The lack of drama, the ability for people to come hang out and relax with their horses [is great] because [for] a lot of our boarders anyway; it's their passion, but it's also kind of like their therapy," Courtney said. "If they've had a hard day at work, things in life aren't going well, they're going to come out and ride their horse. And if you come out to ride your horse and there's a bunch of drama going on, you kind of lose the point."
Although Nick and Britton do not ride horses much now that they're older and more involved at school, Nick said he still enjoys the experiences that come with having parents that own a boarding stable.
"I think part of it is that my backyard is huge. There's not a whole lot you can't do here," Nick said. "But then it's also nice having both my parents around all the time, since they both work right outside."
Courtney also enjoys the perks of being a parent working from home, like the flexibility it allows and the ability for her and her husband to "be a part of the kids' lives." Still, there are disadvantages to working from home, too.
"The same things that are good make it difficult. I mean, it is in your backyard," Courtney said." If there's a sick horse and the owners can't come out, that's my responsibility, whether it's during the work hours or at midnight. So that can be challenging and bite into your time, but the benefits outweigh the negatives for sure."
While there are many qualities to Twin Mill Farm that Courtney believes benefit horse owners, her overall advice is for owners looking for a stable is to make the decision based off what they personally want out of the experience.
"Horses are an expensive hobby, so what I tell people that are looking to board here is that you need to find the place that works for you that you like," Courtney said. "It's a personal [choice], and you've got to enjoy it and it's got to offer what you want in a barn or it's not worth it to be here. If the things that we offer are what someone's interested in, then I think they would enjoy it."
At the end of the day, Courtney said what makes Twin Mill Farm most special is that it brings people together through their love for horses — and that's something that she's proud of.
"I think we've got a great mix of people, ages from eight or nine up to 70, and horses kind of bring everyone together," Courtney said. "They may do different things with their horses, but that doesn't mean they can't enjoy each other's company, and it is very laid back. People just want to come out and enjoy being outside with their horses."
(Visited 126 times, 1 visits today)