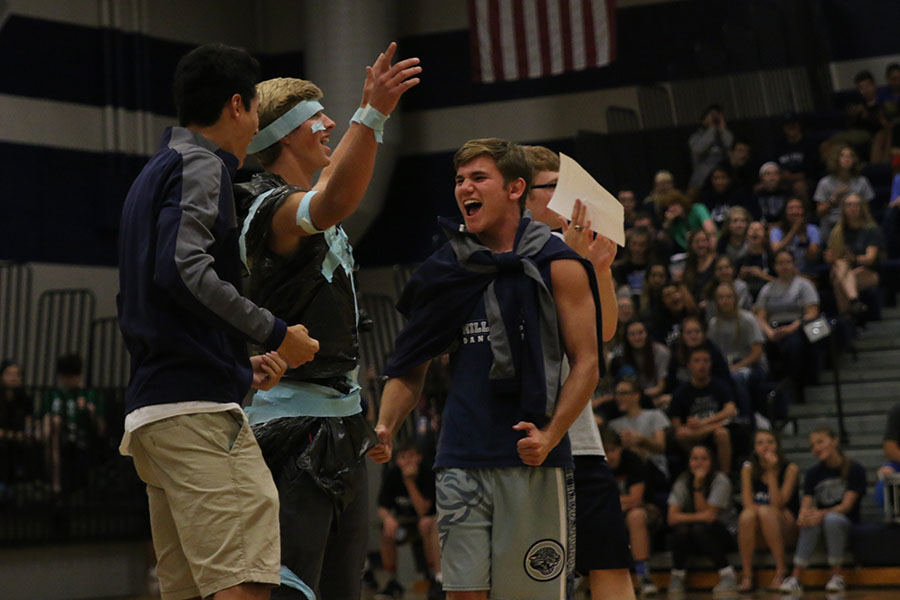 Homecoming week wraps up with a spirit-filled pep assembly
Students participate in games during the pep assembly led by StuCo
Celebrating the end of homecoming week, students overtook the main gym during seminar on Friday, Sept. 8 for a pep assembly.
Senior Caroline Gambill prepared activities for the homecoming assembly during the summer with her fellow StuCo members.
"We started to plan some of the games we would do at the assembly over the summer and how we would get the school hyped for homecoming," Gambill said. "Once we knew who the candidates were, we locked in what we were doing and finalized our plan."
Homecoming candidate senior Peyton Moeder participated in the charades balloon game, acting as different animals and other crazy things.
"We didn't know what activity we were doing going into it, but I knew I just had to be positive and make it super fun," Moeder said.
The charades balloon-popping game was Gambill's favorite activity of the assembly.
"It was super funny to watch all of the homecoming candidates act everything out," Gambill said.
Being down on the gym floor and participating in the game was very enjoyable for Moeder.
"It was so much fun being in front of everyone," Moeder said, "It's not something you do everyday, so that makes it exciting."
According to Moeder, the senior student section made the experience ever more entertaining.
"I thought the most exciting part was when the seniors did the 'do it' chant because we were all super loud and crazy," Moeder said.
Overall, everyone's participation in the assembly overjoyed Gambill.
"I feel like we had a really, really good sense of spirit, and the seniors were super loud," Gambill said. "Everyone was really into it."
(Visited 39 times, 1 visits today)