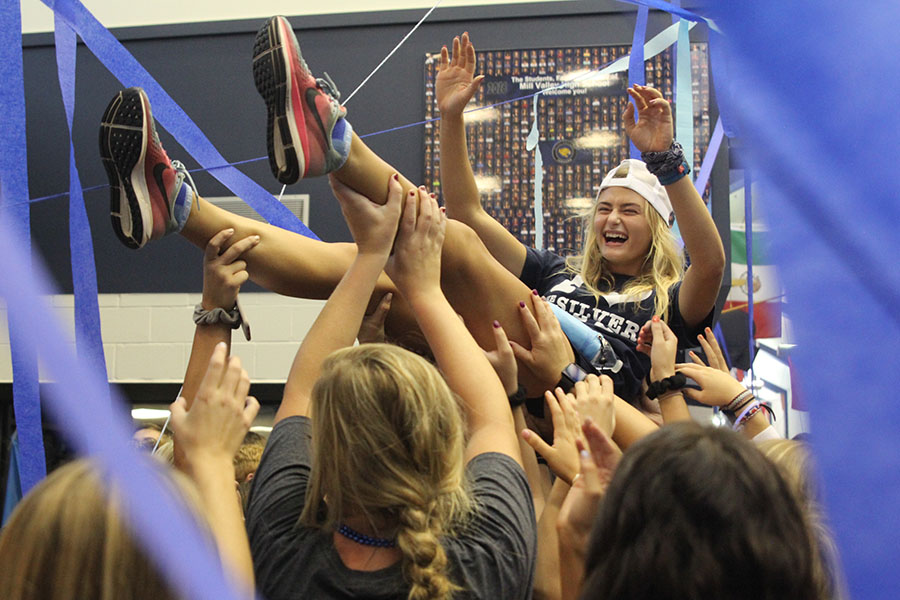 By Annika Lehan
Senior class takes part in annual blue bomb tradition
Mill Valley seniors cover the halls with blue decorations on the last day of homecoming week
With homecoming week coming to a close, the seniors finished it off early Friday, Sept. 8 with the blue bomb. Every year, the Friday before homecoming, the senior class decorates the halls with blue streamers, balloons and a variety of decorations to celebrate the end of the homecoming spirit week.
The senior class, like every other year in the past, tried to outdo the previous year. According to senior Tyler Orbin, this year's senior class had the best blue bomb performance.
"We were definitely the best," Orbin said. "We covered so much ground; we had streamers, ribbon and confetti everywhere. Definitely topped the past years."
The janitors opened the doors at 5:30 a.m., but senior Marissa Olin arrived much earlier.
"I got here at 3:30 this morning which was a full two hours before the doors opened," Olin said. "My friends and I made waffles. I drew with chalk, wrote out 'blue bomb' and drew the paw prints, so obviously [I did] quite a bit before the doors opened."
When she stepped through the doors in the morning, Olin said the school looked like "a mix between a warfield and a terrible explosion at a ribbon factory."
According to Olin, the blue bomb is a reflection of school spirit.
"The blue bomb represents the school because it's just amalgamation of pure chaos that everyone was feeling every day, but in the best possible way," Olin said.
After seeing the blue bomb happen for the past three years, Orbin said he had a great time finally getting to participate himself.
"[When] you see it for the first time, you're like, 'What the heck is going on?'" Orbin said. "But, then you start to understand the hype around it. … Getting to plan it and getting to do it ourselves was spectacular."
(Visited 35 times, 1 visits today)