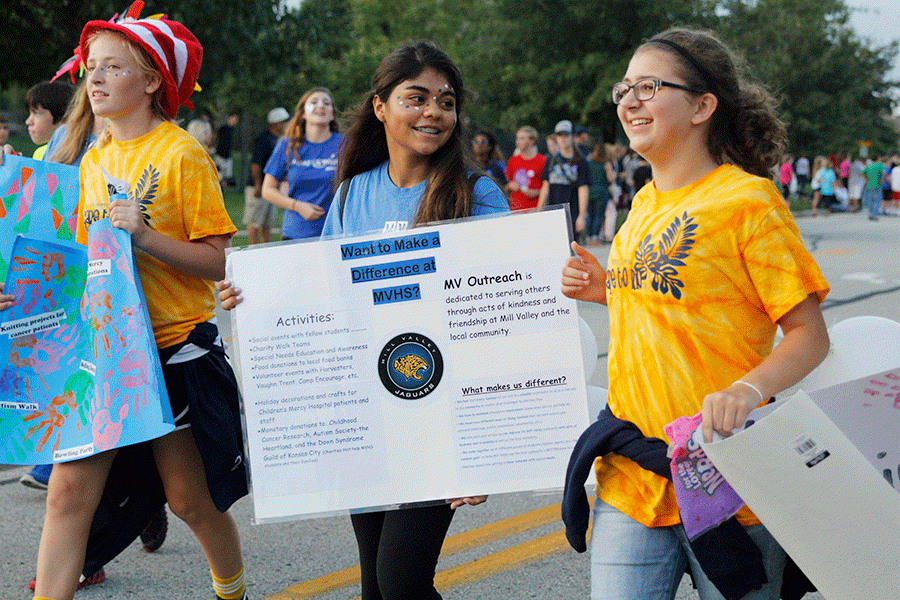 By Annie Myers
Homecoming parade provides an entertaining experience for those involved
The homecoming parade featured 22 floats representing different extracurricular activities and classes
The student body came together to create colorful floats for each grade level, activity, sport and club. Each float displayed its creations in the homecoming parade on Wednesday, Sept. 14. The parade started at Prairie Ridge Elementary School, wove through Grey Oaks and ended back at the elementary school. It lasted a total of about 20 minutes.
This was freshman Abby White's first time in a parade, and she rode on the freshman class float.
"[My favorite part of being in the parade was] the experience and doing it with all my friends," White said. "[It was] fun and energizing."
Meanwhile, senior Savannah Chappell, one of the homecoming candidates, has been in the parade since her sophomore year, and she noticed her outlook of the parade change.
"I used to watch other people in their candidate floats … but being in [the parade] is special because you get to be a part of it," Chappell said.
Chappell also encourages other students to get involved in the parade next year.
"If you have not helped with the homecoming parade or with the class float or just been a part of that, then you should definitely try it because it's one night of the year," Chappell said. "It's just a blast."
After being in the parade, White was happy she had decided to represent her class on their float.
"[Being in the parade is] more of an experience [than watching], and you feel accomplished afterwards," White said. "You're happy that you did it with all your friends, and it's just a fun experience you're not going to be able to say you did if you didn't do it."
Theater department puts finishing touches on homecoming float #MVHC16 pic.twitter.com/2x3wOhhPjE

— Mill Valley News (@millvalleynews) September 14, 2016
The juniors add more balloons to their car #MVHC16 pic.twitter.com/2lc5UpBwl0

— Mill Valley News (@millvalleynews) September 14, 2016
The tennis girls pose for a picture in front of their float #MVHC16 pic.twitter.com/0N2TocfS1N

— Mill Valley News (@millvalleynews) September 14, 2016
Police escorts the beginning of the parade #MVHC16 pic.twitter.com/8hcktUWXOZ

— Mill Valley News (@millvalleynews) September 14, 2016
The band's performance as it walked in the homecoming parade earlier today @MVJaguarBands #MVHC16 pic.twitter.com/qP5SGXMxH9

— Mill Valley News (@millvalleynews) September 15, 2016
Color guard begins its route #MVHC16 pic.twitter.com/PeYViq5nh0

— Mill Valley News (@millvalleynews) September 14, 2016
First pair of homecoming candidates #MVHC16 pic.twitter.com/T2JigD8N0a

— Mill Valley News (@millvalleynews) September 14, 2016
Homecoming candidates @SpencerButters and @kennedyybrownn #MVHC16 pic.twitter.com/ABBwdfTFBD

— Mill Valley News (@millvalleynews) September 14, 2016
Candidates @griffin_hey and @Maci_Foerderer #MVHC16 pic.twitter.com/T2pODU44E6

— Mill Valley News (@millvalleynews) September 14, 2016
Homecoming candidates @CPetigna and @sydsoccer33 #MVHC16 pic.twitter.com/6OIz8inf97

— Mill Valley News (@millvalleynews) September 14, 2016
Homecoming candidates @brady_rolig and @partiallystarrs yesterday in the parade #MVHC16 pic.twitter.com/vNV2nQ1bwa

— Mill Valley News (@millvalleynews) September 15, 2016
Homecoming candidates @schen4883 and @chappell_apple on their homecoming float last night #MVHC16 pic.twitter.com/nQXI0n7qKj

— Mill Valley News (@millvalleynews) September 15, 2016
Senior class float covered with blue @MillValley17 #MVHC16 pic.twitter.com/xfaFrJLsls

— Mill Valley News (@millvalleynews) September 14, 2016
The junior float sports red @MVHS2018class #MVHC16 pic.twitter.com/ECnWAvJvq0

— Mill Valley News (@millvalleynews) September 14, 2016
Sophomore class float arrives in green #MVHC16 pic.twitter.com/whvLkG9E0B

— Mill Valley News (@millvalleynews) September 14, 2016
Freshman float decked in yellow #MVHC16 pic.twitter.com/RkBFDCYEcK

— Mill Valley News (@millvalleynews) September 14, 2016
The cheer float arrives @MVJaguarCheer #MVHC16 pic.twitter.com/v3vD57BdiI

— Mill Valley News (@millvalleynews) September 14, 2016
Boys soccer float @MvsoccerMv #MVHC16 pic.twitter.com/4idiHV4e21

— Mill Valley News (@millvalleynews) September 14, 2016
Girls tennis drives by with its float @MVGirlsTennis #MVHC16 pic.twitter.com/LsoEd83qUd

— Mill Valley News (@millvalleynews) September 14, 2016
Make-a-Wish and Relay for Life drive in the parade @MakeAWishMV @jagRFL #MVHC16 pic.twitter.com/lxbLEpK18U

— Mill Valley News (@millvalleynews) September 14, 2016
The Gay-Straight Alliance its colorful float #MVHC16 pic.twitter.com/Wsol0NIcom

— Mill Valley News (@millvalleynews) September 14, 2016
Jaguar Robotics en route at the parade @1810jagrobotics #MVHC16 pic.twitter.com/4i7V4bOpzf

— Mill Valley News (@millvalleynews) September 14, 2016
Drama/musical float showcasing the fall musical Hello, Dolly @MVTheatreDept #MVHC16 pic.twitter.com/bDT5mNgaZ8

— Mill Valley News (@millvalleynews) September 14, 2016
Cross country @millvalleyxc #MVHC16 pic.twitter.com/nxVrYxt7bV

— Mill Valley News (@millvalleynews) September 14, 2016
Girls and boys swim float at the homecoming parade @mvgirlsswim @MVHS_Swim #MVHC16 pic.twitter.com/cobnI07l3Q

— Mill Valley News (@millvalleynews) September 14, 2016
Volleyball girls @jag_volleyball #MVHC16 pic.twitter.com/zdgtlZtF8o

— Mill Valley News (@millvalleynews) September 14, 2016
Silver Stars Dance Team shines in its float @MV_SSDT #MVHC16 pic.twitter.com/YhB4re63KQ

— Mill Valley News (@millvalleynews) September 14, 2016
Football floats finish the homecoming parade @MVJaguar #MVHC16 pic.twitter.com/6ZzyGFfFdP

— Mill Valley News (@millvalleynews) September 14, 2016
Sorry we missed these floats in the homecoming parade! Here is MV Outreach walking in the parade @MvOutreach #MVHC16 pic.twitter.com/Q6Z1UlM98k

— Mill Valley News (@millvalleynews) September 15, 2016
Homecoming float contest: third place goes to the Silver Stars Dance Team @MV_SSDT #MVHC16 pic.twitter.com/NWvaO9GkKV

— Mill Valley News (@millvalleynews) September 15, 2016
Homecoming float contest: volleyball takes second place @jag_volleyball #MVHC16 pic.twitter.com/oPf9UhjiTp

— Mill Valley News (@millvalleynews) September 15, 2016
Homecoming float contest: cross country wins the float decorating contest @millvalleyxc #MVHC16 pic.twitter.com/9dfisaXK9i

— Mill Valley News (@millvalleynews) September 15, 2016
(Visited 161 times, 1 visits today)