Head soccer coach and carpentry teacher Arlan Vomhof leaves Mill Valley after 20 years
Ending his teaching career of 29 years, Vomhof takes a job as a project manager for a homebuilder
Starting this spring semester, Mill Valley will open its doors without carpentry teacher and head soccer coach Arlan Vomhof for the first time in the building's history. Utilizing his knowledge in construction, Vomhof is becoming a project manager for a homebuilder.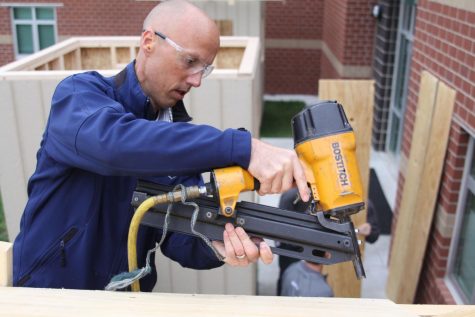 Before he worked at Mill Valley, Vomhof taught at and started the soccer program at Topeka-Seaman and then taught at De Soto. Over the span of 25 years, Vomhof has coached 723 total games and has a total win record of 65.28%.
One thing Vomhof enjoyed about coaching included building relationships with players.
"Coaching has been fun because you get to know a lot of kids that you wouldn't in school, so you see them in a different realm. Over four years you see someone who is a freshman grow until their senior year, and being part of that growth is fun," Vomhof said. "I don't think there's ever been a player that I've dreaded coaching; I've always liked all of my players. I still have quite a few that I keep in contact with over the years."
After working alongside him, assistant soccer coach Joe Waldron acknowledges qualities of Vomhof's that helped him excel as a coach.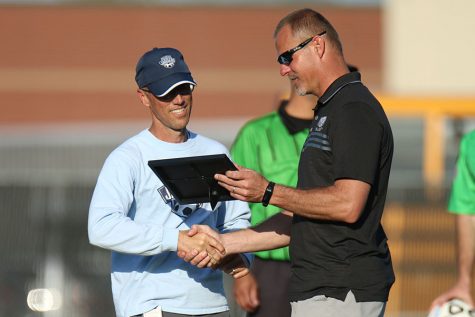 "Three [strengths] come to mind: his organization and attention to detail, his love for the school and his interest in the players and his sense of humor," Waldron said. "I will miss being around him in practice and in the games. Over the years, I have had a lot of fun and have really enjoyed working with him."
Along with being nominated for the Kansas Coach of the Year four times and winning the Midwest Region Coach of the Year in 2012, Vomhof became nominated for the National Coach of the Year in 2012. While he has never won a championship, Vomhof brought the girls and boys soccer teams to state a total of eight times. There are a lot of behind-the-scenes aspects to coaching that make it difficult, according to Vomhof.
"It's a little frustrating sometimes because people think 'oh, you've been [to state] eight times. Why haven't you won?' But there's a lot of luck to winning a state championship. We have been extremely close and even to get there is the luck of the draw with what bracket you get put in. So that's been a big deal, being able to be there eight times," Vomhof said. "There's a lot to coaching high school sports that the general public doesn't know; they don't know what goes on to organize everything and keep everything going." 
Waldron believes Vomhof has been instrumental in building the soccer program.
"He is the only head soccer coach Mill Valley has known. He has built this program from the ground up," Waldron said. "Mill Valley Soccer has gone from nothing to being one of the best soccer programs in the state. Everything that has built or developed has benefited from his guidance."
Along with the soccer teams, Vomhof had to say goodbye to his students and coworkers.
"I told both the boys and girls team out on the soccer field, and when I initially said that there were a lot of big eyes and jaws that dropped. It was nice because afterward several kids came up and shook my hand, gave me a hug. Kids I had in class have talked to me after I told my classes as well; they're just like 'wow, this is exciting, good luck.' They have been really supportive," Vomhof said. "I think the biggest thing is leaving some of the people that I've worked with for so long that are really good friends. Everyone says 'keep in touch,' and hopefully we do, but it's hard leaving those people that you've been with for a long time that are good friends."
Looking forward, Vomhof feels a mixture of emotions about his upcoming career change.
"It's very strange to think after 29 years in education that now I'm going to go do something else. It's exciting, but it's scary. I know that there's a learning curve, but I'm excited to learn something new. Obviously, it's something that is hands on which I love," Vomhof said. "It's exciting to do something that's new and challenging, but yet it's also something I'm familiar with. Like anything, you're taking a risk, but it's something that is exciting to do."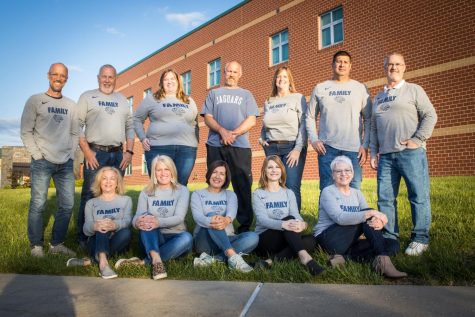 Despite the differences, Vomhof acknowledges the similarities between teaching and his new job. 
"I'm going to be in charge of building houses for different communities. Depending on how much client contact I have in this job, I'll probably still be teaching people about their houses," Vomhof said. "Both my parents were in education; I don't think I'll ever truly get away from it because there's always something to learn about houses and how to do things."
Vomhof hopes to set an example for his students and prove that changing careers is OK, even later in life.
"I've been preaching to my kids in class there are very good jobs in the industry; it doesn't take a two year degree for some of these," Vomhof said. "Being in education, knowing that I was so close to retirement, to be able to take advantage of this opportunity shows kids it's okay to change professions."
(Visited 1,263 times, 1 visits today)