Boys basketball advances to state tournament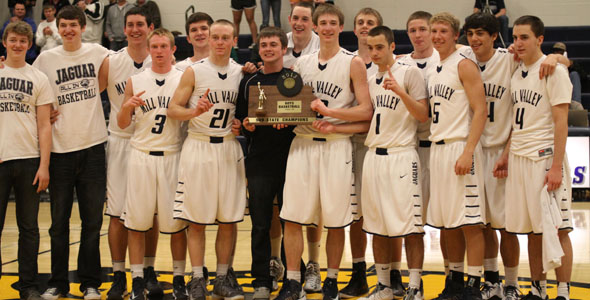 After beating the Washington High School Wildcats 65-50 on Saturday, March 2, the boys basketball team qualified for the state tournament for the first time in nine years.
The high scorer of the night was senior forward Nathan Stacy, who finished with 22 points, 11 rebounds and eight assists.
"I was excited because four years of hard work for me and my senior teammates finally paid off by getting to go to state," Stacy said. "We put in so much hard work and effort in the off season. During the season we work on so many fundamentals that teams can't score against us. And if they can score against us, we will beat them."
Head coach Justin Bogart said that senior guard Kyle Kain's three-pointer in the fourth quarter was the moment he realized the Jaguars would be headed to state.
"[Kain's] three in the corner was probably the biggest play of the game," Bogart said. "That sent a message to everybody that we're going to get this thing finished."
Kain, who contributed six points to the team's win, felt confident after his three, but attributes Stacy's break-away dunk as his moment of realization that the team would win.
"I felt pretty confident that we were going to win because that shot really extended the lead," Kain said. "But [Stacy's] dunk was the sure moment for me. I think everyone thought that was the final blow."
Stacy agrees that his dunk with 1:09 remaining in the game to put the Jaguars up by 13 was an exciting moment.
"When I got the dunk, I knew we were going to state," Stacy said. "I thought it was going to be a very close battle and the game was going to go down to the wire but we ended up winning comfortably."
The Jaguars held the Wildcats at a safe distance for most of the game after getting off to a quick start. They led by 12 at halftime and the Wildcats never really threatened during the second half.
"We started so well," Bogart said. "The guys were confident in our game plan and we made shots early. Once we started stopping shots at the other end, we got very confident and played at a high level all night. [But] you're always concerned [until it's over]. With four minutes to go, we were only up by 12 and it just seemed that four minutes were going to take forever."
After putting in four years of work for the basketball program, sophomore forward Pat Muldoon is excited that the seniors get to experience this season's success.
"[Making it to state] was our goal as a team," Muldoon said. "We put so much hard work into it. I'm happy for all of the seniors. They deserve it more than anyone else on the team."
Bogart also expressed his excitement for the seniors.
"It was just elation," Bogart said. "I was really excited for our players. I think of all the effort they put in and it pays off. I couldn't ask for anything better for those kids."
After the buzzer sounded at the end of the game, the packed student section rushed the court.
"I thought they were going to rush the court," Stacy said. "I thought our fan support was incredible. I had never seen so many people at a game before. When they rushed the court, it was exhilarating for the players to be surrounded by our fans."
Junior Gabby Fangman, who was in the stands, agrees with Stacy.
"It was awesome," Fangman said. "I wanted to storm the court right away."
Looking forward, Muldoon feels that there will be pressure to win in the tournament.
"I'm looking forward to the exposure to the other teams," Muldoon said. "I'm nervous about putting our whole season on the line for one game. It's win or go home."
If the Jaguars win their first game, they will most likely face the undefeated Shawnee Mission South, who they lost to 58-39 on Friday, Dec. 14.
"I think Shawnee Mission South will be a close game," Kain said. "I think it will be a lot closer than last time."
Bogart is also confident that the team is prepared for the state tournament.
"We've been preparing for the championship game since the first day," Bogart said. "Having been there once and winning that first game, I would be disappointed if we lost. I would still be proud, [but in the end], we are going there to win it. We prepare to win the first game because if you don't win that one there's nothing else to play for."
Kain feels that much of the team's success is coming because of the players' close relationships.
"I think we have a lot of chemistry together," Kain said. "We've played a lot together. Last year we had no seniors, so we've had two years to build that relationship on the court."
(Visited 17 times, 1 visits today)
About the Writer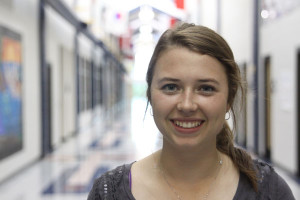 Hanna Torline, editor-in-chief
This is Hanna Torline's third year as a member of the JagWire staff. As a senior, she is involved in journalism, jagPRIDE, NHS, StuCo, Club 121, student leadership team, debate, girls golf and student ambassadors. Her favorite quote is from Mark Twain: "The difference between the right word and the almost right word is the difference between lightning and a lightning bug."