Groups throughout the school find ways to use stickers
October 1, 2019
(Visited 392 times, 1 visits today)
Silver Stars dance team sells stickers for fundraiser
The Silver Stars dance team capitalized on the popularity of stickers by ordering Mill Valley stickers and selling them back to students for their fall fundraiser. Assistant coach Nicole Porter thought the idea could capitalize on an untapped market. 
"The email with permission to place stickers on the laptops really sparked the idea," Porter said. "We thought that if we were the first to sell stickers, people would want to buy them."
According to Porter, the fundraiser was popular among the Silver Stars, who were excited to get out and sell the stickers. 
"The head coach and I had the idea since students were getting new laptops this year," Porter said. "The girls loved the idea."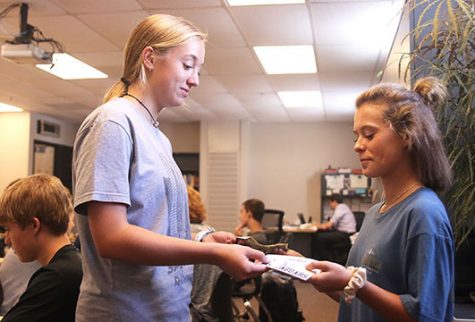 The funds raised via the sticker sale and other Silver Stars team fundraisers are used to pur
chase the team's uniforms and fund trips to competitions. Porter thought the innovative sticker sale was a good start to the year's fundraising efforts. 
"This is not the most successful fundraiser we have done, but still a great way to raise some funds this year," Porter said.
Debate team lobbies via stickers to have their mascot returned
When former head debate coach Annie Goodson left the school last year, she took the debate team's mascot — a gray stuffed dog named Brutus — along with her. With the help of stickers featuring the #FreeBrutus hashtag, members of the debate team are lobbying for their mascot to be returned.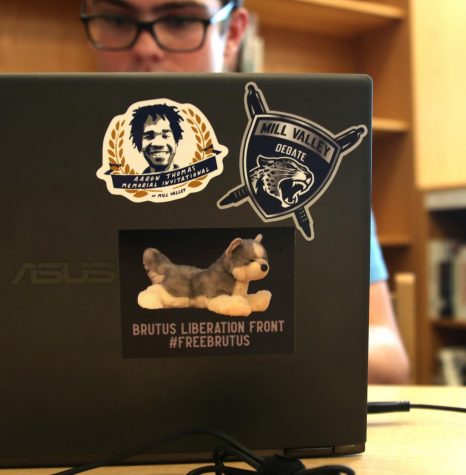 Senior Thomas Babcock, who ordered the first batch of #FreeBrutus stickers, explained why the movement meant so much to him and the team. 
"Brutus was important. He worked as a sort of mascot for the team," Babcock said. "He was also our good luck charm at tournaments."
The stickers, along with an aggressive social media campaign on Reddit and Twitter, have been successful in raising awareness for the campaign; one post even garnered a response from Goodson herself. In a tweet responding to the official Free Brutus Twitter account, @Free_Brutus, Goodson said that if the team could win a state championship, Brutus would be returned. 
Babcock is proud of the success the stickers have had in the campaign to win back Brutus. 
"I think [the stickers have helped the cause]. They led to a lot more conversation on the pressing issue," Babcock said. "We even managed to create a deal with the dognapper that if we win state we can have Brutus back."
Babcock chose to use stickers for the campaign because of their recent popularity among students due to the arrival of MacBooks. 
"We thought that since we were getting the new MacBooks, it would be a good way to spread the word to the rest of the school," Babcock said. "[The stickers] would be fun to have on our laptops at tournaments."
Junior Gabriella Hantla expresses herself with water bottle stickers
Junior Gabriella Hantla expressed herself with stickers before it was cool. While some students have just begun using stickers this year with their MacBooks, Hantla started customizing her water bottle during her freshman year in 2016.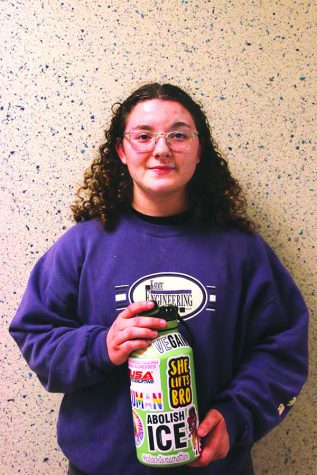 Hantla, whose two favorite stickers read "Abolish ICE" and "Feel the Bern," sees her stickers as a type of peaceful protest.
"[Putting stickers that represent my beliefs on my water bottle is] kind of like a soft form of activism," Hantla said. "It's a conversation starter."
Hantla doesn't see her stickers as attacks on students who dislike what they represent; instead, she hopes that students who disagree with her stickers will take the chance to have their views challenged in stride. 
"[Students who disagree with my stickers] might be a little offended," Hantla said. "[However,] they could also think about everything and be like, 'Oh, I never thought about that.'"
Hantla has picked up a few tricks in her three years of sticker collecting. She avoids buying stickers from large companies like Amazon, instead sticking mostly to Redbubble, a website where shoppers like Hantla can buy sticker art created by other users. 
Hantla has attempted to find more opportunities to express herself as well. 
"At first, I wanted a [Feel the Bern] T-shirt," Hantla said. "I had to settle for this [sticker]."
However small her stickers may be, they make Hantla feel good about herself. 
"This [little form of activism], it's really nice," Hantla said.