Girls tennis team loses dual to Bishop Miege
Heat and lack of practice made first match of the season difficult
More girls tennis coverage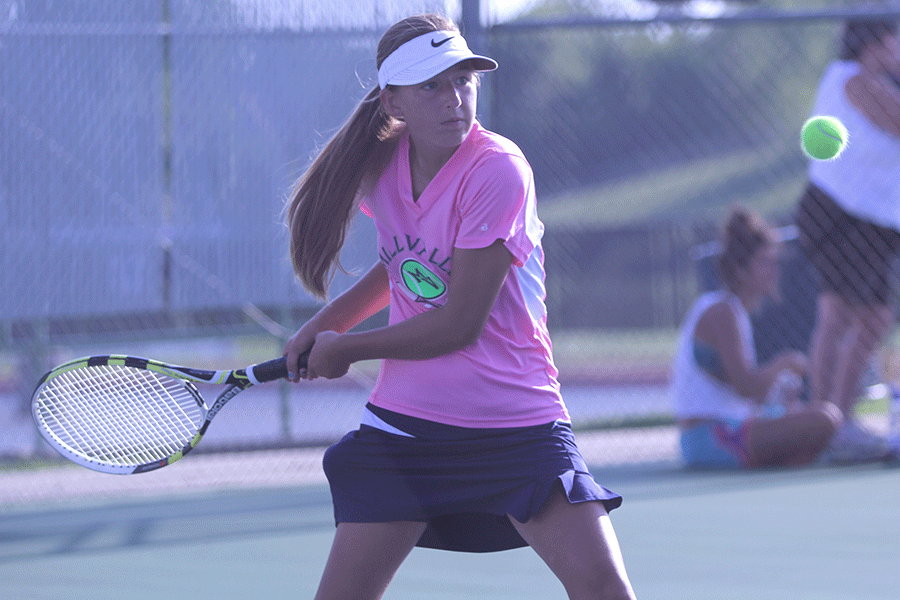 The girls tennis team lost its first dual of the season against Bishop Miege, 15-6, on Thursday, Aug. 28.
Sophomore Lauren Tracht won 8-2 in singles. She attributes her success to the team's closeness.
"I could have done better in [my singles match]," Tracht said. "Overall we're a pretty close [team]. We cheer each other on and do [well] because of that."
The combination of the heat and lack of practice made it hard for some athletes to compete to their best ability. Senior Myesha Kennedy was disappointed with her 8-2 loss in doubles.
"[I think] the brutal sun would sum up the match," Kennedy said. "Today was a poor first game. I'm sick so it was a struggle to run."
Kennedy was not proud of her performance.
"It was a good match. She was a good opponent and she hit more balls, so she took the game," Kennedy said. "I'll get it next time [but] I'm not happy."
Junior Paige Wiebe and Tracht lost their first doubles match they have ever played together, 8-5.
"I get intimidated especially if they're a really good [opponent] but I'm always a little nervous," Tracht said. "In a doubles team I feel like I'm not alone. I feel like me and Paige did our best even though the score wasn't the best, we earned it."
(Visited 10 times, 1 visits today)