Girls tennis loses dual against Free State
Tennis team falls to Free State in dual on Thursday, Sept. 18
More girls tennis coverage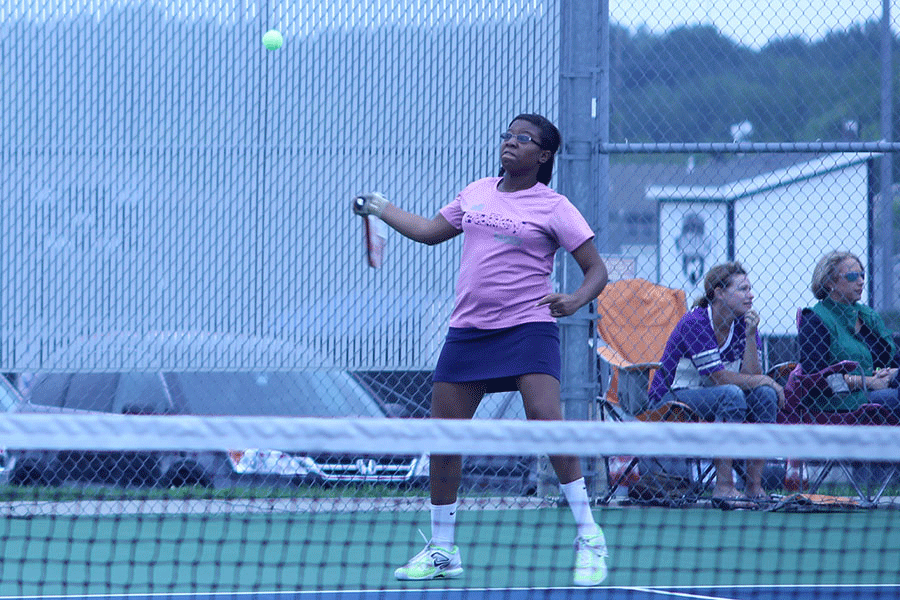 The girls tennis team lost in a dual against Free State High School at Mill Valley High School on Thursday, Sept. 18.
While the team struggled against the 6A schools, senior Myesha Kennedy won in singles 8-4. Seniors Taylor Felshaw and Mikaela McCabe won in doubles 8-4.
Despite the tough competition, head coach Alyssa Meyer said the match was a good starting point.
"They are always a little more challenging, but it's really good to have that at the beginning of the year to see where you are," Meyer said.
While junior Paige Wiebe lost in both singles 5-8, and doubles 1-8, she still felt confident in her ability.
"It went pretty good, because in my singles match I was up 5-2 [games], but then none of my shots started going in, so eventually she won because of that," Wiebe said.
Meyer believes this game is beneficial for her Varsity team with tournaments coming up this weekend.
"It's a really good opportunity to see what our strengths and weaknesses are and then we can work on them today in practice before we have a tournament on Saturday," Meyer said.
Wiebe has high goals when it comes to the rest of the season.
"I am hoping to do well to get to State," Wiebe said. "It is just a learning experience every single time and … I am getting better every single game."
(Visited 40 times, 1 visits today)