Girls swim places first at Bonner Springs meet
Girls swim took home state-qualifying times on Wednesday, April 6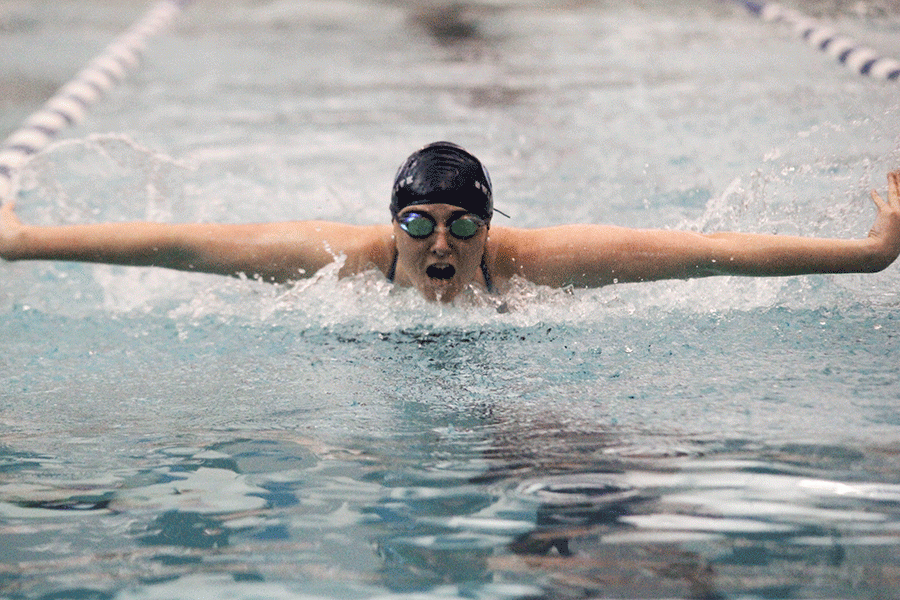 Girls swim placed first at its meet on Wednesday, April 6. The meet took place at Bonner Springs High School, and the girls competed against four other teams including Shawnee Mission East's junior varsity team, Lansing, Turner and Bonner Springs.
Though it was only the team's third meet, many swimmers met time qualifications for state and continue to cut time every day during practice.
"I think the season has been going really well," sophomore Jazlynn Schwegman said.  "All the girls have been shaving time more than they did last year. We've already had a lot of state qualifiers, and I feel like we're all just going to keep improving."
Lower qualifying times this year have forced athletes to work harder to accomplish their goals.
"[The girls] have been working very hard, but, with a hard practice, you know you're getting better," junior Elaina Bartlow said.
New coaches Kelly Downard and Kate Dailey have implemented more intense practice schedules, which some team members said contributed to the team's success. Throughout the ever-changing girls swim program, athletes have consistently practiced hard, but this year marks a definite shift into tougher practices to keep up with 6A schools next year.
"It was an incredible meet," sophomore Vigneulle Puliatti said. "The coaches are so great this year; they helped us build up our endurance so much and really trained us."
Competing against 6A schools pushes swimmers to do better, but the mostly 5A Bonner Springs meet still allowed team members to do well, according to Puliatti.
"This meet is going to build up our confidence so much," Puliatti said. "We've been swimming 6A meets, and then [this] was our first 5A. We demolished, we put 100 percent in and all of our girls tried their hardest."
The location of the meet added extra motivation to the athletes, since many spectators and friends could easily drive out to support the team.
"When you hear your team [and friends] cheering for you, it just motivates you to keep going and keep trying," sophomore Jordan Robinson said.
Bartlow agrees that the positive attitude from both team members and the crowd added a lot of energy and encouraged swimmers to do well.
"That's one of my favorite parts about [swim], just because I get to see my teammates who, over the years, have become my best friends," Bartlow said. "So, just to see them compete and improve makes me really happy."
Five individual swimmers qualified for state, and an additional seven qualified for state consideration.
Puliatti placed second in the 100 fly.
Jordan Robinson placed third in the 100 free.
Schwegman placed first in the 500 free.
The 200 Medley Relay team featuring Sherry McLeod, Puliatti, Vicki Robinson and Claudia Meredith placed second.
In the 200 free, Schwegman placed first, Meredith placed second and Jordan Robinson placed third.
Puliatti placed second in the 50 free.
Finally, the 400 Free Relay team featuring Meredith, McLeod, Schwegman and Puliatti placed third.
The girls' next meet will be Monday, April 11 at Blue Valley West.
(Visited 43 times, 1 visits today)
About the Writer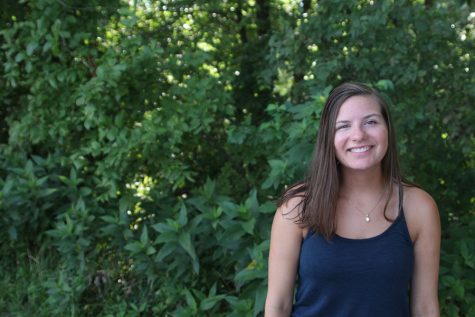 Nora Lucas, JagWire editor-in-chief
Senior Nora Lucas has been on the JagWire staff for three years, this year acting as editor-in-chief. She is also an NHS officer and a flute section leader in the Jaguar marching band. In her free time, Nora enjoys long walks with her corgi, Winnie, and reading political commentary on Twitter, particularly Al Gore. To contact Nora, email her at [email protected] or direct message her on Twitter @noraclucas.