Girls soccer team defeats Shawnee Mission Northwest 3-0
The team's improved ball movement powered them to a 3-0 victory.
Ben Wieland, Mill Valley News editor-in-chief
April 15, 2019
The girls soccer team defeated Shawnee Mission Northwest 3-0 Friday, April 12 thanks to a much-improved offense and timely finishing.
The team's three goals equaled their total from the past four games combined. This upgrade to the team's attack was no accident; head coach Arlan Vomhof explained where the growth came from.
"We've been working on our offense a lot in practice. We looked at some film yesterday and that was really beneficial because the girls were able to see everything we'd been telling them," Vomhof said. "Today [the team] came out and fixed a lot of what they'd been doing… the issues weren't completely fixed, but [the team] executed much better at some of the offensive stuff we'd discussed.
Although the team controlled the ball for most of the game, SMNW kept the score knotted 0-0 until, set up by creative ball movement, sophomore Delaney Fields scored in the upper right corner from just above the box. The team took their 1-0 lead into halftime, then sophomore Peyton Wagoner broke the game open with a second goal on a run up the right wing 62 minutes in to put the team up 2-0.
While Fields' goal was never in question, Wagoner's required a bit of luck to find the back of the net.
"[On my second goal], I was actually trying to cross the ball, but it deflected off a defender and went into the top corner," Wagoner said.
Girls soccer team is up 2-0 on SMNW with 18 minutes to play behind goals from sophomores Delaney Fields and Peyton Wagoner! Go Jags!

— Mill Valley News (@millvalleynews) April 13, 2019
Senior Shyanne Best finished the game strong, converting a free kick from the top of the box with five minutes left in the game. Her goal gave the team a 3-0 lead, which they held through the end of the game.
Mill Valley's Shyanne Best scores on a free kick with 5 minutes to play! Jags up 3-0 on SMNW.

— Mill Valley News (@millvalleynews) April 13, 2019
Game over! Mill Valley girls soccer team takes down SMNW 3-0.

— Mill Valley News (@millvalleynews) April 13, 2019
Much like her coach, Best thought the team's performance was a result of the offensive strategy and movement they'd reviewed during practices.
"We watched film over this past week and we were able to see how we weren't moving and see how we should be moving. We saw how stagnant we were and that we could be moving a lot more," Best said. "Tonight, we moved better — especially off the ball — and were able to spread out the defense and score. We just executed what we wanted to do better than we had been."
The players all believed that their improved ball movement was the chief contributor to their win.
"We connected well, we passed well [and] we moved well," Wagoner said.
Best agreed with Wagoner.
"We moved the ball really well," Best added. "We were able to get up the lines through give-and-gos and move the ball a lot better than we had been moving it."
Even Vomhof was impressed by the way the team moved the ball.
"The ball movement was a lot better tonight," Vomhof said. "The girls did a lot better connecting passes tonight than they had the last few games."
Coming into the win, the team had lost their last two games. However, Vomhof didn't worry about the skid.
"I'm not concerned. We're a young team. We have three seniors, a handful of juniors and a handful of sophomores, but at the varsity level we have some girls learning," Vomhof said. "We graduated a big senior class last year, so we've got a lot of girls who've moved up and just have to get used to the speed, the pace of the ball, and getting knocked around by 18-year-olds."
The team will play again against Topeka Seaman at 6:30 p.m. Monday, Apr. 15.
(Visited 102 times, 1 visits today)
About the Writer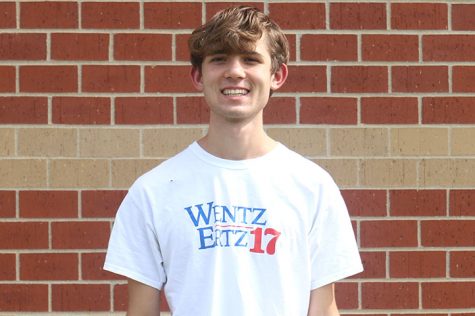 Ben Wieland, Mill Valley News editor-in-chief
This is senior Ben Wieland's third year on staff and his second year as Mill Valley News editor-in-chief. When he isn't running the website, you can find Ben at StuCo, Youth for Refugees, Young Democrats or Quiz Bowl meetings — and if he isn't there, he's probably at home watching TV.