Girls soccer defeats St. James
During a home game, the girls soccer team won against St. James on Tuesday, May 2
The girls soccer team came out victorious over St. James Academy at home with the final score being 3-1 on Tuesday, May 2.
The games and practices prior to the game provided junior center back Cori Carver and her teammates with momentum.
"We've been playing good competition these last few games and have been practicing really hard," Carver said. "We knew it was going to be a good game because St. James is usually a good team and we've been grinding it out at practice."
One thing that junior forward Adde Hinkle felt the team executed well was its ability to gain and keep control of the ball.
"Last night we really possessed well," Hinkle said. "I felt like we had control of most of the game. We were able to pass around to more players and get more opportunities at goal."
Throughout the game, Carver and the team focused on staying in control of the game and slowing things down.
"Our focus has been just keeping the ball, because sometimes we get a little frantic when we are in the last third of the game," Carver said. "When we are about to shoot, we tend to rush the ball instead of playing our game."
According to Hinkle, St. James had tough competition which the team was able to overcome.
"They had a fast forward and it was hard to stay on her, but we have good defenders like [senior Kacie Kinley] and [junior Cori Carver] who could stick with her and she didn't end up scoring," Hinkle said.
The win proved to Hinkle and her teammates that they were capable of playing against more advanced competition.
"[The game] put in perspective that we still needed to work hard and we did," Hinkle said. "We realized that we can compete with upper level teams like Aquinas and all those other schools."
In order to finish the remainder of the season strong, Carver believed the team needed to stay focused to keep up the intensity of their play.
"I think for the rest of the season our focus will be maintaining," Carver said. "Usually after we play a really hard team and have a good game our next game will be off or we won't play as well. It is important for us to maintain playing at a high level and continue to beat better teams that we could face at state."
The girls soccer team will back in action on Thursday, May 4 at Lansing.
(Visited 24 times, 1 visits today)
About the Writer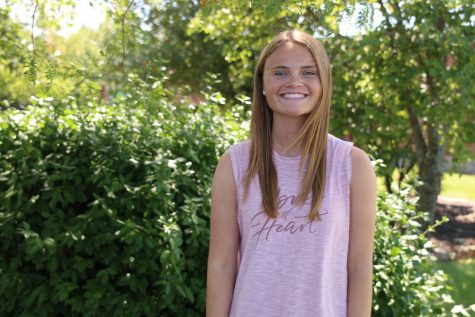 Sydney Parker, JAG copy/managing editor
This is senior Sydney Parker's third year on the JAG yearbook staff. This year she is both copy and managing editor. Sydney is also involved in ambassadors, NHS, Spanish NHS, band and softball. Her hobbies include watching old movies and spending time with her dog.