Girls golf team wins Basehor-Linwood Invitational
Three golfers finish in the top five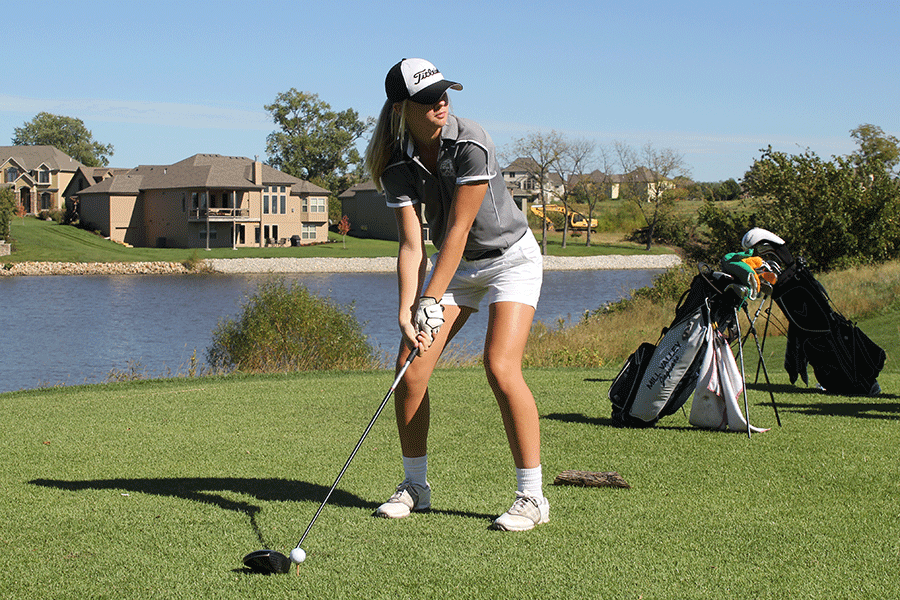 The varsity girls golf team took home first place from the Basehor-Linwood Invitational at Falcon Lakes Golf Course on Tuesday, Oct. 7. The invitational was the last of the season before the regional competition on Tuesday, Oct. 14 at Sunflower Hills Golf Course.
Individually, De Soto High School senior Brittani Jenson placed first, sophomore Courtney Carlson placed fourth and freshman Bella Hadden placed fifth. Senior Holly Webb and sophomore Grace Van Inwengen also competed.
Head coach Jack Johnson was pleased with the team's performance.
"I was very proud of the girls because it was a windy day and a tough golf course, but they still played well," Johnson said.
This sentiment is shared by Carlson.
"I was very pleased," Carlson said. "I really liked the course, so that helped out and I couldn't have done it without my great coaches [Johnson] and [coach Drew Walters]. I was really happy with how we did as a team. Everyone contributed and we couldn't have gotten first without everybody's great performances."
Carlson is eager to compete at the regional level as well.
"I'm very excited to see how we cab do as a team," Carlson said. I'm hoping we can finish in the top three and qualify for state."
In addition, Johnson also feels the team is ready.
"We will not have [Jenson] because she's a student at De Soto, which makes it a bit harder," Johnsnon said. "It's a difficult task, but the girls should be ready for it."
(Visited 158 times, 1 visits today)