Girls golf team finishes fourth at Blue Valley North Invitational
Mill Valley scored 362, seven points from taking second
John Lehan, JagWire reporter/photographer
September 13, 2018
Scoring 362, the girls golf team received fourth overall against eight other teams in the Blue Valley North Invitational on Tuesday, Sept. 11 at the Leawood Country Club golf course. The invitational was one of two that would determine the EKL title.
The team kept the competition tight and narrowly missed second and third place, which scored 356 and 358 respectively. The meet didn't live up to freshman Libby Green's hopes, who scored 87 points and placed seventh individually.
"I am a little disappointed because I know I could have done a lot better," Green said. "I know I have a lot of things to work on."
This sentiment was echoed by senior Sarah Lawson, who placed sixth individually by shooting the team best, 86 points, and also feels the team has improvements to be made.
"I feel like we all could have done just a little bit better," Lawson said. "Everyone knows what what they need to work on."
The team faced a relatively lengthy course with a variety of hole types that proved challenging, according to Green.
"It was a lot longer than the [courses] we usually play in high school golf [courses]," Green said. "The two nine [holes] are a lot different. One has really tight fairways and the other one is pretty open."
The heightened challenge proved extremely enjoyable for Lawson because of the added element of strategy.
"I actually love this course," Lawson said. "This [course] makes you think a little bit more in it, and I enjoy it."
As a whole, Lawson believes the team has already seen improvement in their scores, which makes the future look bright, despite the challenge the team met at the meet.
"Everyone has gotten lower [scores]," Lawson said. "It is super exciting as a team."
(Visited 50 times, 1 visits today)
About the Contributors
John Lehan, JagWire reporter/photographer
This is sophomore John Lehan's first year as a reporter/photographer for the JagWire staff. When not reporting, John participates in band, debate, cross country, bowling and track. On the weekends, John can be seen reffing soccer games at Stump Park, playing cards or eating popcorn whilst watching Netflix.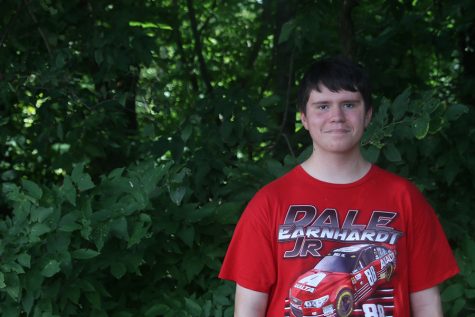 Sam Hanson, JagWire reporter/photographer
This is sophomore Sam Hanson's first year on the JagWire Staff. This year, he is a writer and a reporter. Sam is also involved with the Mill Valley Band, in which he plays the trombone. Sam is also an avid NASCAR fan, so he can be found at the Kansas Speedway anytime during race weekends. He is also very intrigued with parasites and anything pathological.