Girls golf takes first place at home tournament
Sophomore Libby Green finished third, and two other girls placed in the top ten
Competing at the Shawnee Country Club, the girls golf team won their tournament Tuesday, Sept. 10 with a total score of 323. Sophomore Libby Green placed third and shot a 74, two over par. Senior Hannah Davie and junior Ava Van Inwegen followed closely behind with fourth and ninth place and scores of 76 and 85.
Davie believes the location of the tournament helped the team play to the best of their abilities. 
"I think we did really [well]," Davie said. "This was our home course, so we were expecting to do really good because we know [this course] and we have been playing it for a while."
On the other hand, Van Inwegen credits the team's success to the strong relationships between the team members.
"I think how close of friends we are and how supportive we are of each other really helps us," Van Inwegen said. "We want [each other] to play really well [because] we are all best friends so that helps us all be proud of each other when we do good and help each other when we play bad."
The team had to work hard this summer to recover from the loss of Mill Valley graduate Sarah Lawson, according to Davie.
"[Losing Lawson] definitely was a hard adjustment because she was very good and she was our [captain] last year," Davie said. "We were all working really hard this summer to improve and try [to] fill her spot."
In addition to losing Lawson, the team also has to learn to recover from mistakes during tournaments, according to Van Inwegen.
"[We need to work on] not getting mad at our small mistakes and recovering from a hole," Van Inwegen said. "It's definitely a mental sport."
With these improvements, Green hopes to continue the team's success from last year.
"For the team, I'd like to see a couple [more] wins for us," Green said. "[However], we still have a little ways to go before state [and] I'm not thinking that far ahead."
Other than the joy of winning, Green cherishes the valuable relationships she has through golf.
"I really like how many friends that I have made from golf," Green said. "All of these bonds I have made, I will keep forever."
(Visited 314 times, 1 visits today)
About the Writer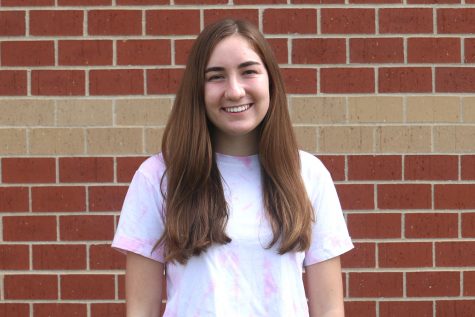 Grace McLeod, JAG editor-in-chief
This is senior Grace McLeod's third year on the journalism staff. She is an editor-in-chief for the JAG yearbook. Grace is also president of the Women's Empowerment Club and involved with SLT, Youth for Refugees, NHS and other clubs. Outside of school, she loves to spend time with her friends and go camping or shopping.