Girls golf team places first at regionals
With a score of 350, the girls golf team places first at 6A regionals and will advance to the state tournament
With a score of 350, the girls golf team placed first at the Gardner Edgerton regionals tournament. After the tournament was postponed three days due to rain, the tournament took place on Thursday, Oct. 11th at the Olathe-Prairie Highlands Golf Course. The girls competed against 6 other teams, claiming first by 30 strokes.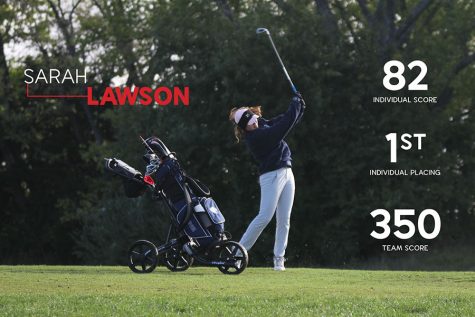 After freshman Libby Green and senior Sarah Lawson tied for first, both shooting an 82, Lawson won the playoff and claimed first, while Green claimed second. Trailing behind, sophomore Ava Van Inwegen placed fifth with a score of 91. Although this is Lawson's fourth year of playing, the meet still gave her new experiences.
"It was crazy, I ended up tying with Libby and then we had to go out and play a playoff for first place," Lawson said. "I had never played a playoff against my own teammate before."
The low scores of the team earned them the title of regional champions of the 6A league, making them the first Mill Valley girls team to do so. According to Ava Van Inwegen, the lack of competition from the other teams and the effort that the girls put into this tournament helped them achieve their title.
"It was definitely lower competition from the present schools as other schools have been at previous competitions," said Van Inwegen. "Going into it, we knew we knew the competition wouldn't be as high but we still had to play well because any school could come out of nowhere [and win] if we didn't play as well as we did."
Lawson thinks the team needs to improve their concentration and focus before the state tournament.
"I think a lot of us struggle with mentality while playing and being able to get back into a rhythm," Lawson said. "If all of us can be a little more confident and get a little more stable throughout the round we will perform better [at state]."
The girls golf team will next compete at the Salina Municipal Golf Course on Monday, Oct. 15th for the 6A state tournament.
(Visited 155 times, 1 visits today)