Girls golf heads to state with third regional title in four years
The girls won the 6A regional title on Monday, Oct. 14 at Sunflower Hills with a total score of 342 strokes
The girls golf team brought home the 6A regional title with four girls placing top ten Monday, Oct. 14. Senior Hannah Davie placed first with a total of 77 strokes followed by sophomore Libby Green who placed second with a total of 80 strokes. Junior Molly Haymaker placed fourth with 90 strokes and junior Ava van Inwegen placed seventh with 95 strokes.
Going into the regionals tournament, head coach Chris Wallace believed that the team had high chances.
"For regionals, we absolutely felt like it was a good opportunity to play well and win and we weren't surprised that the result, but it was still a good showing and a good performance," Wallace said.
With the team placing second in the EKL, junior Ava van Inwegen believes that the team is in a strong position heading into state.
"This season has been pretty successful…I think we're all positive moving forward into state next week," van Inwegen said.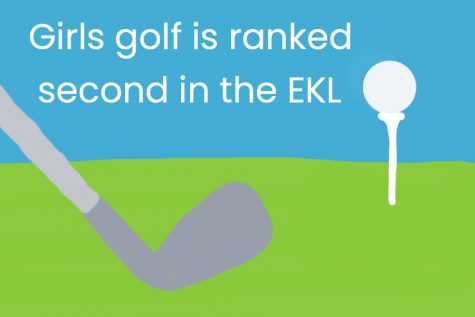 Wallace believes that experience has played an essential role in the team's high performances so far this season.
"We're a very experienced team that has been playing a lot of varsity golf for a lot of years now. We returned five golfers from the team that won regionals and state last year," Wallace said. "So when you bring that kind of experience back, you're expectation is still really high."
Looking ahead toward state, Wallace feels that there will be strong competition and a more intense playing schedule.
"There are no guarantees when it comes to state and how we're going to do. We have a serious competition there, much like we did last year," Wallace said. "Anything is possible and it's now a two-day tournament instead of one day. So, that'll be interesting to see how that impacts the girls and their performance."
Even with the strong competition, van Inwegen hopes that the team can bring home another state title.
"We're really hoping to repeat. It's going to be hard, but we're hoping we can do it again," van Inwegen said.
The girls will be competing in the two-day state tournament on Monday, Oct. 21 and Tuesday, Oct. 22 at Hutchinson-Carey Park in Hutchinson.
(Visited 251 times, 1 visits today)