Girls cross country team brings home second straight state title
The girls team took home three medals, while the boys finished third
The girls cross country team celebrated their state championship the same way they won it: together. 
After returning to the Mill Valley parking lot to the sounds of "We are the Champions" and a cheering crowd of students and parents, the girls huddled together for team photos and a group rendition of the school fight song. In a way, despite their victory just a few hours before, they seemed like they never wanted the season to end. 
Students welcome home the state champion girls cross country team! pic.twitter.com/u0ULx8vIhg

— Mill Valley News (@millvalleynews) November 2, 2019
It isn't a coincidence that the team, which took home their second consecutive state title Saturday, Nov. 2 at Rim Rock Farm, has such a strong connection to one another. In fact, according to sophomore Katie Schwartzkopf, who individually finished second in the race, their relationship is what sets the team apart. 
"We're so connected on so many different ways," Schwartzkopf said. "I think that other teams just are lacking in that. We'd just do anything for each other. That's what makes us unique."
The power of the team's connection was obvious to head coach Chris McAfee as well. 
"They're very special individuals," McAfee said. "The way they committed themselves, the way they support each other and encourage each other and hold each other along and really run for each other is special. They all were just so passionate about the group."
The team's camaraderie and success is more meaningful to senior Morgan Koca than perhaps anyone else. Koca was a sophomore when McAfee took over, a junior when the team won its first championship and a senior when her fourth-place finish played a key role in winning their second. 
Koca too believes that the team's success hinged largely on their unique bond. 
"It's really special how cohesive we are and how we always have each other's backs," Koca said. "We know we're not just racing for ourselves. Each race, we're going out and just running  for each other. We all know that it's not just about us, it's about the team."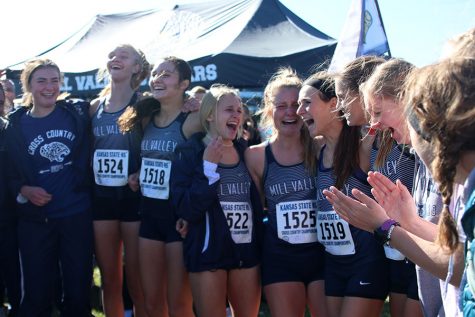 For Koca, though, winning a state title in her final race was especially meaningful. 
"It feels so good, especially knowing everything I've done to prepare for this throughout high school," Koca said. "This is just such a good way to end. It's so bittersweet, but I'm just so grateful for the team that we had."
Koca and Schwartzkopf are also quick to credit one other person for their team's sustained success: McAfee. The head coach who's brought home two state titles in his first three seasons has, according to Schwartzkopf, quickly developed a much-appreciated culture of hard work and commitment among the team.
"He is here all the time. He dedicates so much of his life to us when he has other things in his life," Schwartzkopf said. "The time he puts in to make us better people and runners is just amazing. We're so lucky to have him."
McAfee is similarly meaningful to Koca.
"He's a really good balance of a friend and a coach," Koca said. "He just really pushes us harder than we think we can go."
The culture McAfee has created proved its effectiveness with a state performance that was impressive across the board. In addition to the girls team, which took first with a score of 53 and produced three medalists — Schwartzkopf, Koca and junior Molly Ricker — in their dominant victory, the boys team took home third place as well, finishing with a score of 111. 
Senior Darius Hightower, who took home fifth place and a medal in his final race, does feel the boys team could have performed better. However, he will always remember the relationship he formed with his teammates throughout his seasons on the team. 
"We could have done better, but whatever. We fought," Hightower said. "I'll never forget having fun with my teammates, running with them and being best friends with all of them. They're all family to me."
"

We'd just do anything for each other. That's what makes us unique.

— sophomore Katie Schwartzkopf
Girls Race Results
Katie Schwartzkopf – second place – 18:41
Morgan Koca – fourth place – 18:56
Molly Ricker – 15th place – 19:35
Jenna Walker – 24th place – 19:52
Josie Taylor – 25th place – 19:54
Molly Haymaker – 49th place – 20:39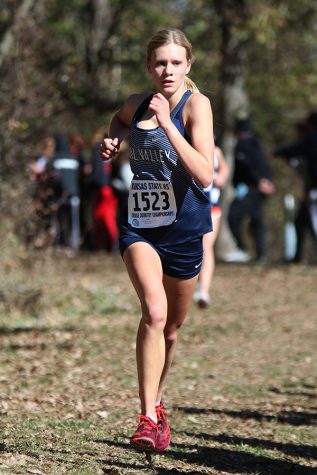 Quincy Hubert – 75th place – 21:13
Boys Race Results
Darius Hightower – fifth place – 16:09
Nick Schmidt – 22nd place – 16:35
Carsyn Turpin – 26th place – 16:40
Karch Crawford – 48th place – 17:04
Nathan Greenfield – 50th place – 17:06
John Lehan – 66th place – 17:18
Jack Terry – 102nd place – 19:38
Full meet results are available here.
(Visited 794 times, 1 visits today)
About the Writer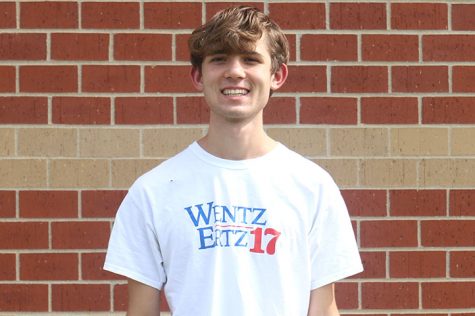 Ben Wieland, Mill Valley News editor-in-chief
This is senior Ben Wieland's third year on staff and his second year as Mill Valley News editor-in-chief. When he isn't running the website, you can find Ben at StuCo, Youth for Refugees, Young Democrats or Quiz Bowl meetings — and if he isn't there, he's probably at home watching TV.