Girls basketball team improves defense to beat Indians 47-21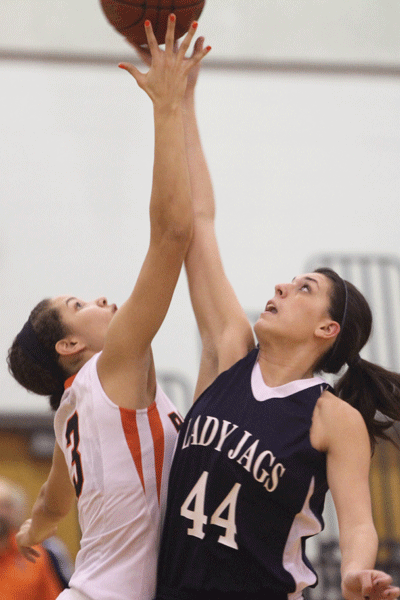 After scoring 26 points in the first quarter, going 9-9 from the field with six three-point shots, the varsity girls basketball team defeated Bonner Springs High School 47-21 on Friday, Jan. 11. With the win over the Indians, the Jaguars advanced to 6-0 in league and 7-1 overall.
The Jaguar defense held the Indians' high-scorer, senior guard Anna Deegan, who averaged 16.7 points per game before Friday, to a season-low 6 points.
"One of the reasons we're 7-1 is because we are a very good defensive team, we guard," head coach John McFall said. "We have very good feet, we spring back on defense and we create a lot of turnovers. When you start talking about the other team's best offensive player, like Deegan, [senior guard] Kenzie Koch guards them and guards them well."
Although McFall points out Koch as one of the Jaguars' best defensive players, he says that many other players contribute.
"The luxury is, it's not just Kenzie [Koch]," McFall said. "[Junior guard] Mary Altman can guard anybody. That's something as a coach that's very important … We have a lot of depth on our team. The other people just step up."
Both games last season between the Jaguars and the Indians were won by only one point. The Indians won the first game 38-37, while the Jaguars won the second 34-33. The game on Friday proved to have a different outcome.
"The Bonner game was exactly what we needed as a team," senior forward Brooklyn Sloop said. "It helped us gain some confidence after the close games with them last year. We did well by just going out there and doing exactly what we wanted to do: win by a big margin."
The next game for the Jaguars is at Shawnee Mission South High School on Friday, Jan. 18 at 7 p.m.
(Visited 3 times, 1 visits today)
About the Writer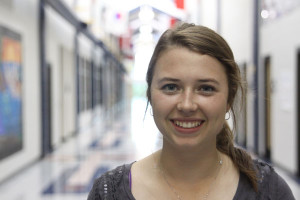 Hanna Torline, editor-in-chief
This is Hanna Torline's third year as a member of the JagWire staff. As a senior, she is involved in journalism, jagPRIDE, NHS, StuCo, Club 121, student leadership team, debate, girls golf and student ambassadors. Her favorite quote is from Mark Twain: "The difference between the right word and the almost right word is the difference between lightning and a lightning bug."