Girls basketball advances to state title game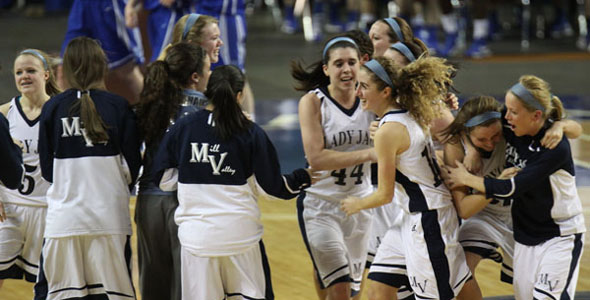 After standing for almost four hours, the crowd was getting bored. The girls basketball team had a solid lead at 27-20 at the beginning of the fourth quarter during the state semifinals on Friday, March 8. Some students were sitting, others making comments about how 'slow' girls basketball was.
But when Kapaun Mt. Carmel High School hit a shot with 47.9 seconds remaining in the game to put the Crusaders up 32-31, the atmosphere changed. Every person in the largest student section of the year was bouncing up and down.
"The crowd was awesome," senior guard Tanner Tripp said. "They made it a lot better and easier for us to push through. When we weren't playing our best, they were really loud and kept us up."
With 16.3 seconds on the clock, junior forward Carly Eaton made a shot from underneath the basket, her only field goal of the game, to put the Jaguars up by one. The crowd erupted.
"That [basket] was awesome," Eaton said. "I didn't even think it was going in. I was just praying that it would go in, just hoping when it hit the rim."
Preparing to defend the Crusaders' last shot, the Jaguars were standing on the other side of the court when the Kapaun player inbounding the ball stepped onto the court and back out of bounds, turning the ball over.
"I was a little nervous," senior forward Stephanie Lichtenauer, who finished with a game-high 17 points, said. "But I knew my team would know how to pull it off and I figured we'd find a way."
Needless to say, the student section was as loud as it had been all night.
"The crowd was awesome," senior guard McKenzie Koch said. "There were definitely tons of people here and you could just hear them. It was nuts to look up and see all those people."
When the Jaguars passed the ball back in bounds, Koch was fouled and made the second of two free throws, putting the Jaguars up by two at 34-32 with 10.6 seconds remaining.
"It was definitely a little nerve-wracking," Koch said. "But I never thought we were going to lose."
After calling a quick timeout, head coach John McFall knew what he wanted the players to do.
"My girls know the situation," McFall said. "If we're up two, they could drive it or they could shoot a [three] so we've got to guard everything. My concern was that they understood the situation, and these girls are so wonderful about that. They knew that they could launch a three and beat us or drive it to the hole and make a bucket and go into overtime."
With a few seconds left on the game clock, a Kapaun player tossed up an air ball and Eaton came down with the game-ending rebound.
"That's my favorite part of the game, to rebound," Eaton said. "I loved it. The ending of the game was the most fun we have ever had playing basketball together. There was so much adrenaline in the room. Going down by one and then overcoming the adversity, we did awesome."
The Jaguars ran off the court with a 34-32 win over the Crusaders.
"I couldn't believe it," Lichtenauer said. "I was jumping up and down. I just wanted to grab all of my teammates. I was so proud of everyone and that we finally pulled it off. We've been dreaming about this since we were 11 years old. We all work so well together. We all know exactly how each other play. We just have fun together and we pulled it off."
Tripp said that experiencing this team's success has been even more exciting as a senior.
"It's the best thing that could happen," Tripp said. "I started crying in the locker room because I was so happy and it's the best senior season I could ask for. I can't even explain it. I was seriously so happy and excited. I was speechless from just yelling."
Although the Jaguars were ranked higher than Kapaun, the defending state champions, they knew it would be a tough game.
"We knew it was going to be a really close game since they're defending state champs," Tripp said. "So we didn't know we were going to win but we had confidence and we knew we wanted it more than them."
McFall agreed with Tripp.
"Like I told the girls, my job as the coach is to try to take them as far as they possibly can go," McFall said. "Each step along the process is more exciting, I told them after sub-state to enjoy this, it's exciting. But if you think that's exciting, the next step is even more exciting. If we would happen to win a state championship, it would be unbelievable."
A state championship is only one game away, as the Jaguars will face St. Thomas Aquinas, the number one seed, on Saturday, March 9 at 4 p.m.
"I'm definitely really excited," Koch said. "Aquinas is who knocked us out last year so it's kind of a get-back, revenge thing."
McFall knows the game won't be easy.
"Aquinas is outstanding," McFall said. "[But] we've got some toughness. We guard and we show some grit. The one thing I can guarantee anybody is that we'll show up and we'll play hard tomorrow. We'll play smart and hopefully it'll be a good ball game."
(Visited 21 times, 1 visits today)
About the Writer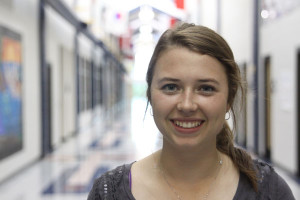 Hanna Torline, editor-in-chief
This is Hanna Torline's third year as a member of the JagWire staff. As a senior, she is involved in journalism, jagPRIDE, NHS, StuCo, Club 121, student leadership team, debate, girls golf and student ambassadors. Her favorite quote is from Mark Twain: "The difference between the right word and the almost right word is the difference between lightning and a lightning bug."