Cross country runners partake in friendly competition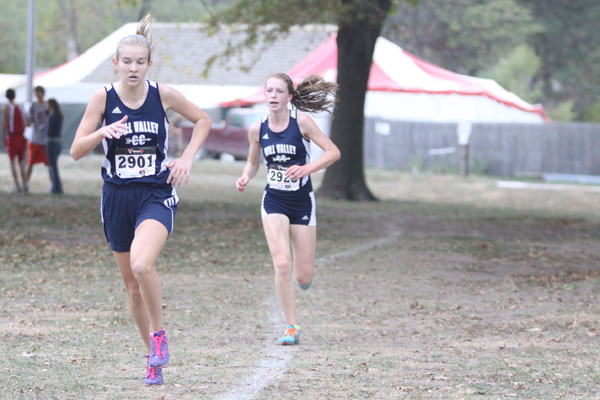 Laughing, freshmen varsity cross country runners Amber Akin and Ellie Wilson talk about how their friendship has affected their season this year.
"We've been at this [running competition] since seventh grade," Wilson said. "We're pretty much attached."
"We've been best friends for ten years," Akin said. "We push each other because we've known each other forever."
Over the course of the season, Akin and Wilson have broken the school record for girls 4K, alternating who breaks the record at meets, each trailing the other by seconds.
Head coach Mark Chipman said that the girls have a competitive edge that allows them to run as well as they do.
"I think they're both very competitive, which is good, but their friendship causes them to just enjoy competing," Chipman said. "Whichever one has a better race that day is fine with them."
At the first meet of the season, Wilson placed first at the Shawnee Mission South High School Quad for the girls 'individual two mile. Akin finished 13 seconds behind Wilson, both girls securing the first and second place medal.
Junior cross country runner Holly Peterman enjoys watching the girls use their friendship as their motivation.
"Since they are such good friends, it's fun to see them battle at who is going to beat the other," Peterman said. "It's a fun finish to watch."
Wilson broke the girls 4K record at the second meet of the season with a time of 15:56 and Akin finished one second behind her.
At the third meet, Akin ran a 15:20, with Wilson five seconds behind her. Peterman sees the hard work the girls have put into their wins.
Even as the season continues, the girls have finished every race within 20 seconds of each other.
"I think we'll peak by the end of the season and keep getting better because we'll know the courses better," Wilson said.
Chipman appreciates the girls' hard work and the impact their friendship has had on the team.
"I don't think there's any animosity between them," Chipman said. "They know they're both good runners and it's made the team better so [I] appreciate that."
Akin agrees with Chipman that the girls' friendship has allowed them to push each other further in cross country together.
"We still goof off once in awhile, but we try harder," Akin said. "There's no bad competition between us. We're best friends first, running partners second."
(Visited 10 times, 1 visits today)
About the Writer
Alana Flinn, JagWire editor-in-chief
Alana Flinn is a third year staffer who is looking forward to a year full of new experiences. As editor-in-chief, Flinn hopes to finally win a Pacemaker for Mill Valley News while maintaining the quality of JagWire. She will also continue to report on her favorite sport, football. Flinn's favorite quote is: "Every person you meet, every single one, is looking for their story. There are no exceptions. You become part of it by how you treat them." -Anonymous