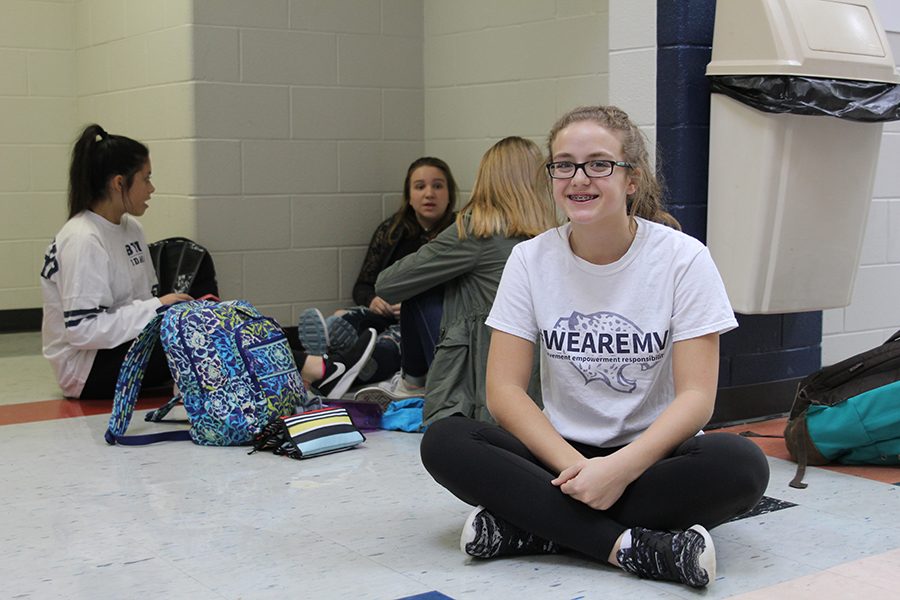 By Lexi Flipse
Freshman Whitney Van Dyke and friends frequent main hallway after school
The group interacts with each other and the community as they wait for their parents to pick them up
As the 2:55 pm bell rings, students pass through the main hallway, either in the rush to go home or to an after-school activity. Some students, however, decide to socialize well after school gets out.
Freshmen Whitney Van Dyke, Cadee Morris, Lanie Whitehill and Ali Greenhalgh have formed a group on the outskirts of the main hallway, in between the Catty Shack and C-101. The group began meeting there everyday so they could hang out while they wait for their parents to get off work, usually 30 minutes after school gets out.
Van Dyke has found that these daily interactions after school have strengthened the bond between the group.
"We became a lot closer and we get to talk about each other's days," Van Dyke said. "We normally bring snacks and we'll talk about things or sometimes watch Netflix together."
Greenhalgh has seen the impact of this special location to the group positively affect each of their lives.
"It lets us spend time together," Greenhalgh said. "It's good to have somewhere that you can just talk to people after school about your day."
Every day the group gets to see and connect with all different students and faculty members, which is a unique experience for Van Dyke.
"Normally when we see people walking by, they'll stop and we'll have a little conversation or they'll wave," Van Dyke said. "[Those interactions have] made me closer to some people that I don't normally see or talk to but I'm still friends with. We'll get to have little chats."
Whether it be with passerby or her close friends, Greenhalgh appreciates the memories she makes every day.
"It's nice to see people after school that you don't have classes with," Greenhalgh said. "Also, I just like being with them because they are my friends and I like talking to them. I know that I have friends that I can talk to and we all just have fun together."
The location has allowed for new experiences for Van Dyke who has grown closer to both her friends and her school.
"I like it a lot more than I thought I would because I get to see my friends every day even if they're not in any of my classes," Van Dyke said. "It's important because it's probably where I spend the most time in the school. It's my favorite spot because it's at the end of the day and I'm just with all of my friends."
(Visited 77 times, 1 visits today)