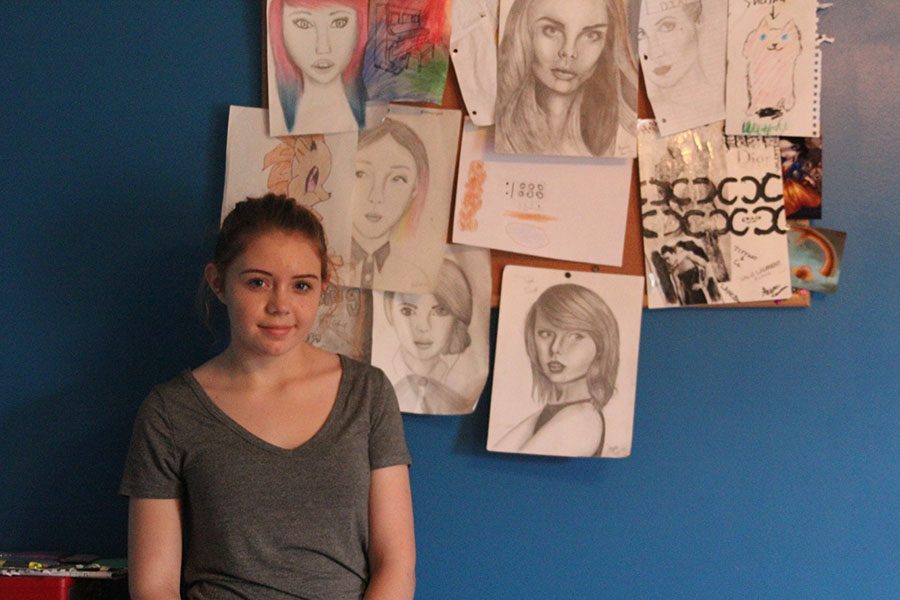 Freshman Shaina Isaacsen finds passion in portraiture
Since discovering her artistic abilities in 6th grade, Isaacsen has worked hard to develop her portraits, finding other benefits along the way
The familiar three-tone sound signifying the beginning of a period fills the hallways and  classrooms of Mill Valley, but freshman Shaina Issacsen waits to reach for her class materials — a more enticing prospect awaits her on a fresh page of her sketchbook. She begins a new portrait, first sketching out the right side of the face, then working inward toward the eye. From the first line, she feels terrified of making a mistake, but soon the rhythm of the drawing puts her at ease.
Isaacsen's love for art began in 6th grade, when a friend motivated her to start practicing.
"I had a friend who was really good at art for a sixth grader, and I wasn't at the time, and decided 'I wanna be better at her than art', so I just started doing it," Issacsen said. "I was like 'oh, I actually like this'."
Since then, her interest has only grown, becoming both a passion and a favorite pastime. Isaacsen finds that she treats her art differently than most things in her life: once she begins work on a piece, she has a strong desire to follow it through to completion.
"It's the thing I'm passionate about; I have the tendency to start something and never finish it, but that never happens with art because I have this drive to get better and work more and more. It also relieves my stress," Isaacsen said.
Isaacsen's drawing teacher Jodi Ellis has taken notice of this zeal.
"[Isaacsen]'s passion for art is evident in her excitement and enthusiasm that she brings to class," Ellis said via email.
Isaacsen prefers to work in graphite and charcoal, typically in 11 by nine inch sketchbooks. Most pieces, which can take anywhere from eight hours to two days, are portraits. Portraiture has been a focus for Isaacsen since the beginning, as her first drawings were always of people.
"First of all, I just think people's faces are really interesting, I think I like how they're all very different," Isaacsen said. "But I also like how you can capture someone's emotions within their eyes or their smile."
Creativity does not come to Isaacsen as easily as one might believe, despite her interest and ability in art. As such, she tends to draw from images or from life — people she can see. She does, however, feel inspiration.
"When I say inspiration, I guess I'd say it's more of a drive to just do something, like if there's a story to tell behind an expression," Isaacsen said.
To help capture the emotion in a piece, Isaacsen enjoys working in a unique, eye-catching style which emphasizes certain facial features on the subject.
"I tend to make [my subjects] more dramatic than they actually are," Isaacsen said. "I don't know if that's a style, but I definitely like to dramatize my portraits. I think it makes my art look more striking, makes you want to look at it."
According to Ellis, the development of a personal artistic style is a form of visual communication, and can take time.
"It is great to see such a young artist like [Isaacsen] interested in creating art that evokes emotion or tells a story.  This makes the work much more powerful," Ellis said. "A style for many artists takes years to develop and helps us recognize work. Over the course of my 18 years [of teaching], I've known several students that had already developed their own unique style. It's exciting to see that development."
Despite her recognizable style, Isaacsen tends to keep her work very private. Even so, the public could get a chance to view it in the future.
"Ideally I would want to be an artist, but that's a pipe dream for me," Isaacsen said. "I'd want to, but it's not very realistic right now."
Reflecting upon her art, Isaacsen finds that while she has improved a great deal since her humble middle school beginnings, there is still room to grow before she can move to the professional level.
"I try to evaluate [my work] as I go, like I'm a lot better at drawing girls than I am at drawing guys, and I'd really like to get better at drawing guys," Isaacsen said. "I think my techniques in drawing have improved a lot though — looking back on when I'd just started, I cringe."
Ellis stresses the necessity of this self-evaluation, a valuable tool for artistic growth. Similar to this, she has noticed a willingness in Isaacsen to ask for outside critiques, as differing opinions on a piece can bring new ideas to the forefront.
"Self-evaluation in art is important in order to continue to grow, and growth in art should be constant.  I see [Isaacsen]'s desire to get feedback on her work by asking how she can improve on her drawings," Ellis said. "Being able to accurately and objectively critique one's own work is extremely important as an artist and is a skill that takes time to develop."
Ultimately, Isaacsen finds comfort and confidence in her work, regardless of whether she keeps it personal or makes it public. What began as a fun challenge several years ago has developed into an integral part of her life, something that would be difficult to take away.
"I think I use [art] as a time just to sort out all of my problems," Isaacsen said, "so I'd probably be a lot sadder if I didn't do it. I also use my ability to do art as a sort of validation for me, so I'd probably have a lot less self confidence [without art]."
(Visited 18 times, 1 visits today)