Freshman Sarah Allerheiligen competes as an elite horseback rider
As an equestrian of eight years, Allerheiligen balances competitions, training, and upkeep
While other students head to their various clubs and activities after school, freshman Sarah Allerheiligen heads to the barn to work with her horse for competition. There, she suits up in her boots, gloves and helmet to take care of her horse and ride.
 Since she was six, Allerheiligen has been riding horses competitively and traveling to shows across the country. 
"I always loved horses as a kid," Allerheiligen said. "I eventually got my mom to let me start taking lessons at a smaller barn." 
Allerheiligen currently belongs to White Fox Manor in Olathe where she keeps her new horse Luke. He is a 14-year-old Holsteiner, a very large breed, who she hopes to keep until college.
Three or four times a year, Allerheiligen will attend horse show competitions that are mostly held in Michigan, North Carolina or Florida. These competitions are broken up by division and by classes. Allerheiligen competes in the jumpers classes, where she and the horse are evaluated on the speed and accuracy at which they follow a course.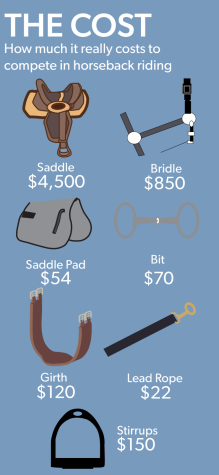 From these shows, equestrians earn ribbons and titles for their placings. Allerheiligen takes pride in her accomplishments and the progress she has made. 
"I won Horse of the Year out of some states in the Midwest… and I've gotten third and fourth other times," Allerheiligen said. "I've also moved up to a lot of things that I never expected to be doing at my age yet." 
Allerheiligen spends anywhere from six to 15 hours per week tending to Luke, practice riding and working with her trainer, Julie Pickering, to prepare for shows. 
"Sarah prepares by taking lessons on her horse and working on exercises to improve her abilities on the horse, as well as the horse's ability to respond to cues," Pickering said. 
Through all the time spent training, the horse and equestrian create a special connection.
"It is a great sport for animal lovers," Pickering said. "Horses are so kind and generous, and developing a bond with them is one of the greatest feelings."
Through these many hours spent riding and training, Allerheiligen enjoys seeing her work pay off. 
"It's nice knowing there's something I do that not a ton of other people do," Allerheiligen said. "When you're at a show, [you] see all your work at home come together." 
(Visited 228 times, 1 visits today)