Former teachers learn new ways to stay active and stay in touch with students after retiring
Recently retired teachers and those who left Mill Valley years ago still engage in school community
Over the years many teachers have come and gone from Mill Valley, including former principal Dr. Joe Novak, track coach Mike Peck and former head girls basketball coach John McFall. As all three retired teachers have learned, there are many ways to handle retirement.
Spending time with family, finding another job or continuing to coach a sport at the high school are just some of the ways these teachers have learned to stay busy. Each teacher has realized that while retiring may, or may not have been the right decision, it wasn't what they expected.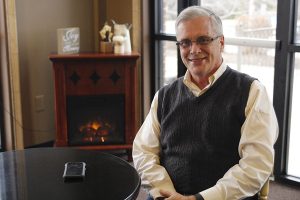 Novak spent a short time in full retirement, but he quickly realized he was not ready for the slow pace of retirement.
"I experienced that six months of fully being retired, and it drove me crazy," Novak said. "There's just so many times you can work out in the course of the day [and] walk the dogs."
Now, Novak has resumed his teaching career at the university level: first at the University of Saint Mary in Leavenworth, then at Kansas University.
"It's just fun teaching at the university level just because it's a little more serious for them because this is a major they have chosen," Novak said. "I'm just as crazy as I was when I taught back in the '70s and '80s."
Even after retirement, Peck and McFall have continued to have a strong participation in the school. Peck is still the head of the girls' track team despite not teaching in the school anymore.
"It seems like I always keep telling myself 'this is my last year, this is my last year' but every year, we always have here comes another great kid, and I just keep repeating that cycle over and over," Peck said.
McFall isn't a basketball coach for Mill Valley anymore, but he still supports the team and stays in touch with the players and coaches.
"I've been to four girls games at Mill Valley this year," McFall said. "I watch 75 percent of the girls films. Coach Walters has me on what's called a huddle [and we] email after every game."
Since Mcfall has retired, he feels has been able to spend more time with his family, particularly his grandchildren.
"[Retirement] has been a little bit more hectic than what I expected," McFall said. "I thought it would be more like kicking back and stuff. Sometimes there are no grandkids running around, but there are more days where there are 13 [grandkids]."
When students and staff found out business teacher Mark Chipman will be retiring from teaching after 40 years, they dedicated a basketball halftime ceremony for him to show their appreciation.
For Chipman, it was a tough decision because of the emotional connection he has made with his students and the cross country runners.
"I'll miss the interaction with the kids, the practice everyday and just the camaraderie between team members," Chipman said. "[I will miss] the opportunity and the ability to work with kids and help kids succeed."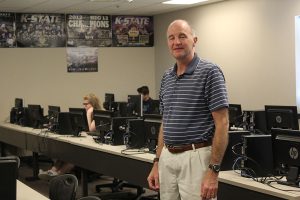 Though Chipman has already announced his coming retirement, he has yet to decide what he will do after retiring.
"I haven't made any definite [plans] yet; I know we are going to travel quite a bit," Chipman said. "I might look for a part time job or for some community service type job."
All the retired teachers found that after retiring from teaching, they can still leave a legacy and enjoy themselves after spending so much time in the classroom.
"I always really enjoyed trying to positively impact young lives. Whether that's with a story or a tid bit of information I've learned," Novak said. "So now getting to do that again and possibly positively impacting lives is most fun about retirement."
(Visited 254 times, 2 visits today)