Former counselor finds success in quirky store
Jane Hosey Stern had lots of support before getting a successful storefront in Olathe
May 17, 2016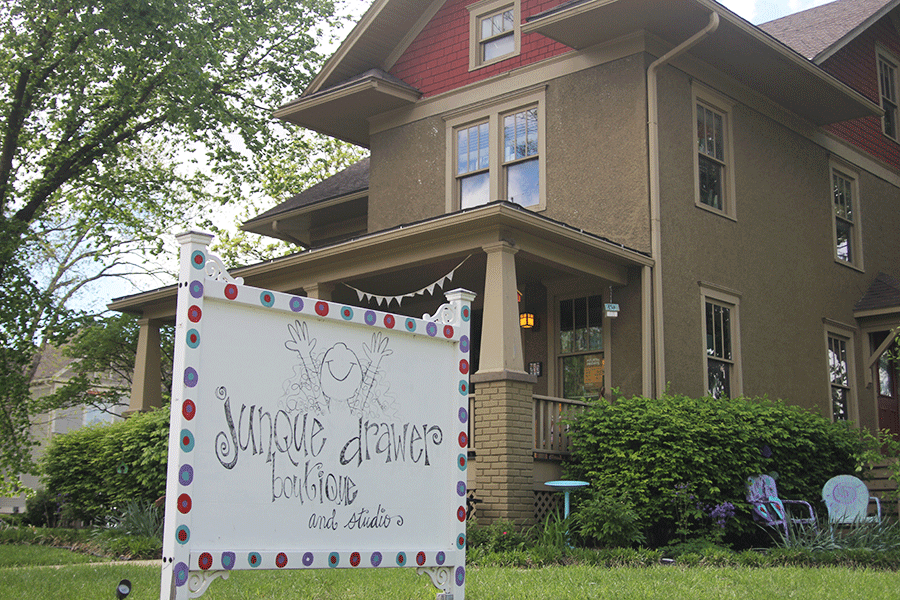 Stepping into Junque Drawer is like being transformed into a different world. The store is filled to the brim with bracelets, candles, pencils — anything and everything related to arts and crafts. The owner, Jane Hosey Stern, sits behind the front desk as the illuminated Junque Drawer sign, made out of mismatched, lit letters, hangs on the wall behind her. On any given day, she could be chatting with a customer or fixing a necklace, whatever it takes to make the customer happy.
To Jane, a former school counselor for multiple districts, the customer is not just someone who pays for her products. Instead, a customer is a person to get to know. Someone who, through the power of sassy coasters or the famous charm necklace bar, can find history or favorite things in her store.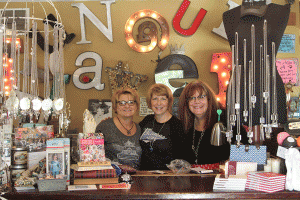 "You meet people, and, through helping them create what they want, you find out a lot about them," Jane said. "We had a lady that came in the other day that was 86 and … she just had this beautiful soul. She was putting together a charm necklaces and … they were all about her past. At one point, she was an author, at another time … she loved to garden and … so it was just cool … hearing people's stories."
Jane remembers most people that come into her store, making sure to have a conversation with everyone that walks through the door. People are the reason her store was able to get off the ground in the first place. After retiring from her career, Jane, who crafts jewelry and other decorations, decided to create a store. First, she opened a business inside her home, and the move to a storefront was later possible thanks to her friends.
"It was crazy. We had a lot of little stuff. I just asked all my dear friends to help me, and, bless their hearts, they did," Jane said. "My daughter is my manager and my partner in crime, so she really helped with a lot of the displays and stuff."
That daughter is Hannah Stern, Junque Drawer manager and event coordinator. After being offered a job at her mother's store, Hannah finally said yes. Now, working with her mother has only strengthened their bond.
"We definitely bump heads working so closely; we are very similar people," Hannah said. "But it has only made our relationship stronger. She's my best friend. It's pretty cool working with your best friend every day."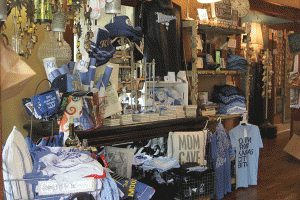 The labor of love does not come without challenges. With the success of the store, Jane has had to make sure her priorities are with her family and her friends.
"Personally … just remembering to take time to be with my friends and my family and … not letting the store engulf my whole life, because it could," Jane said. "Read a book and stay connected to the world, rather than just having the world revolve around the store, has been my biggest … challenge."
Now, Jane and her friends have expanded in more ways than one. After opening up a second location in Emporia three years ago, Junque Drawer now has an online store. Likewise, Jane, her business partner Jean Busey and their children opened up Unwind, a bar and boutique next door Junque Drawer, last November.
Despite the recent gains the team behind Junque Drawer have made, Jane was proud of her store from the beginning.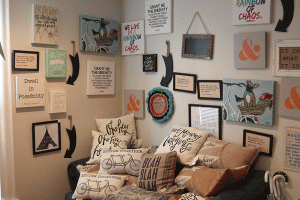 "I've tried to really not be concerned about the money part," Jane said. "I thought it was successful right off the bat, just because my friends all came and supported it and people were talking about it."
Jane's goal was to create a store in which people could come together and connect with each other.
"I think that some people who don't like to shop don't get that it's not about buying anything, it's really about sharing while you are going through something," Jane said. "I don't want it to be a store where you think, 'I don't even remember what was in that store.' I want people to remember the store as special and unique and personal."
(Visited 78 times, 1 visits today)