Foreign exchange students find new homes in Shawnee
Seniors Elena Camazón and Eunice Hsu traveled from Spain and Taiwan, respectively, to expand their knowledge
September 25, 2017
(Visited 32 times, 1 visits today)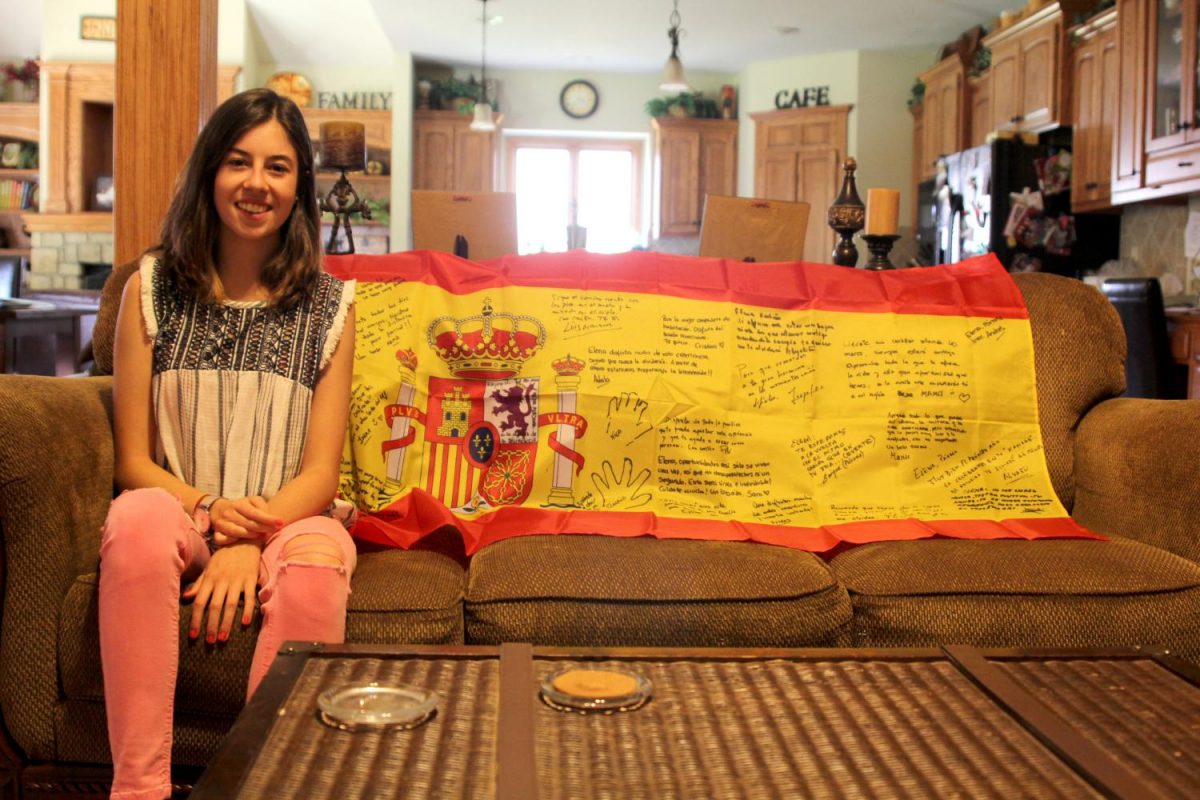 Senior foreign exchange student Elena Camazón builds friendships
Camazón discovers American culture in her home away from home
Smiling as she says "yes," senior Elena Camazón accepts a homecoming proposal from senior Dani Crispin and Sofia Torres that reads, "sería dulcemente agradable si vas a homecoming con nosotras," meaning, "It would be sweet if you went to homecoming with us." To Camazón, the gesture was touching because as a foreign exchange student from Leon, Spain, building relationships with new people is important.
Camazón wasn't originally looking to study in the U.S., but was encouraged by her mother.
"I started looking for things that could bring me here," Camazón said. "When you send the papers they say you can choose a place you want to go [and I chose Kansas City.]"
Teresa Kilkenny decided to host Camazón to share her "blessings" with her as well as for religious reasons.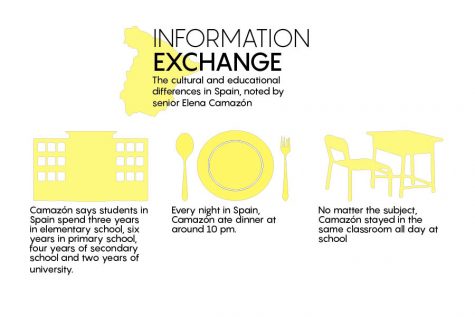 "I felt like the Holy Spirit was telling me to help somebody out there that needed to come to the U.S. and study," Kilkenny said. "I have a big house and kids leaving the big house, so I had a spare room."
Camazón finds cultural differences to be the hardest adjustment, particularly the scheduling of school. Despite the differences, Camazón enjoys Mill Valley and has made multiple attempts to get involved and immerse herself in the student body.
"I'm in theater club; in Spain we also have a theater club, but it's not as big as here," Camazón said. "I like a lot of the school because it's very big and everything is really cool and [the most helpful people are] the friends that I have that [are] in my classes."
Torres befriended Camazón because she was intrigued by her background and hoped that they would find similarities in each other since Torres is from Mexico.
"I've never met a foreign exchange student, but I thought it was really interesting how she's from Spain," Torres said. "We have in common that our cultures are different from what the American culture is and it makes us relate more to each other."
Besides what they have in common, Torres' favorite thing about Camazón is her positive energy.
"I love her sense of humor," Torres said. "She laughs at my jokes and she's really nice."
Kilkenny agrees and says she is blessed to have Camazón as a part of her life.
"[Elena is] just a joy. She sees beauty in things I've forgotten to look at anymore," Kilkenny said. "Everything's new to her, every experience in Kansas City is new and it makes me appreciate how much I love the U.S. and even just the Shawnee area."
(Visited 58 times, 1 visits today)
Leave a Comment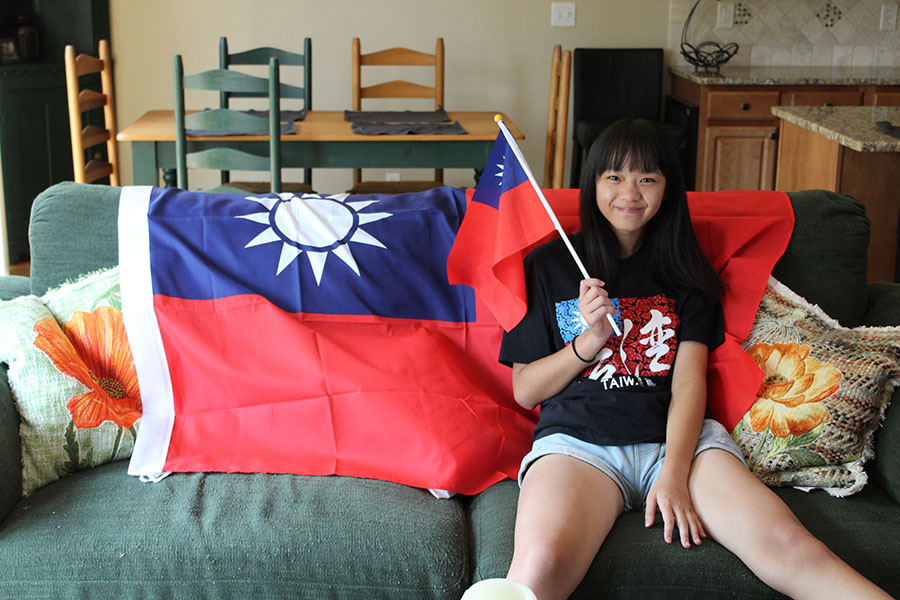 By Marah Shulda
Senior foreign exchange student Eunice Hsu overcomes language barriers
When she returns home to Taiwan, Hsu plans on bringing Shawnee's culture with her
Over 7,400 miles separate Shawnee from New Taipei City, the most populous city in Taiwan. A two-stop flight over the span of 33 hours opens up a world of opportunity — literally. For senior Eunice Hsu, Shawnee will be her home from now until summer 2018.
Hsu was born in New Taipei City, given the Mandarin name Ching-Yun, Hsu. At her boarding school in Taiwan, she shared a dorm room with three other students and ran on a tight schedule. Now, in the United States, Hsu is living with host mother Jane and Mill Creek Middle School eighth-grader Jada Eggleston.
Of the places she could study, Hsu chose America because of its size and the growing prominence of the English language.
"Since English has become the world's second language, sort of, learning English would benefit [my future career as a veterinarian] in a lot of ways," Hsu said.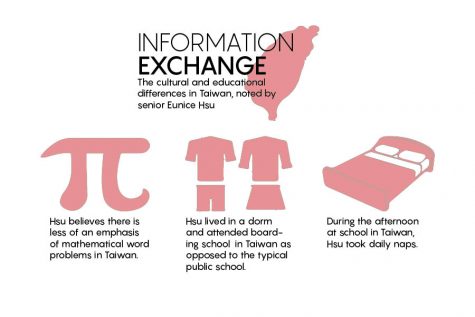 After hearing about positive experiences from friends who have hosted foreign exchange students, Jane decided to open her home to Hsu. As Hsu learns more about the U.S., she passes on the Taiwanese culture. 
"I wanted to welcome a student into our home in the U.S. and show her what it's like to live here," Jane said. "She can also teach us about how she lives with the foods, her holidays and culture."
While the U.S. and Taiwan are an ocean apart, Hsu believes "human touch in general" is an aspect that makes the cultures of New Taipei City and Shawnee similar.
"[In both Taiwan and the U.S.] everyone is all nice," Hsu said. "Everyone is very friendly, so if you see someone in the streets and you know them, they'll automatically wave and say hi."
As Mandarin Chinese and Standard Mandarin are the official languages of Taiwan, Hsu said understanding and being fluent in English is one of biggest challenges she faces as a foreign exchange student.
"Using English in class [is hard for me]," Hsu said. "Everyone says 'Speak English' to me …  Everyone speaks English really quickly, so it's a lot harder to understand. It makes [me] feel like [I have] to be able to understand what they're saying."
Because English comes as a second language behind Mandarin to Hsu, junior Gigi Lin helps translate for Hsu. Lin heard about Hsu from a friend and ended up showing Hsu around the school. Because Lin and Hsu only share a lunch and occasionally walk to class together, Hsu also uses an Google Translate in class.
"Sometimes, she'll ask me for help," Lin said. "Honestly, everything usually makes sense to her. I'll usually show up and translate for her at the beginning of the class, then I leave."
The linguistic barrier might be a difficult obstacle to overcome, but it doesn't stop Hsu from learning more about her new home.
"She really wants to get out and see things, and she's an extrovert, so she really likes to meet people," Jane said. "She fits right in no matter what we do."
Hsu ultimately became a foreign exchange student because she is "only going to be a student once in her life."
"When [I'm] around 60 or 70 [I'm] never going to want to come to America to learn, so taking this chance as a student is more beneficial," Hsu said. "Taiwan is a very small country, so [I] want to be able to go around the world, learn about their cultures and bring it back to Taiwan."
(Visited 51 times, 1 visits today)
Leave a Comment