Foreign exchange student sets tennis records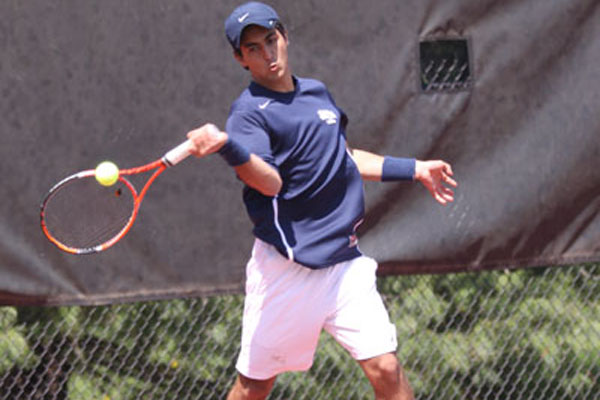 Senior Rafael Segura Trujillo placed third in singles at the state tennis tournament on Saturday, May 11, the highest finish in school history.
"It feels good getting third in state for Mill Valley," Segura Trujillo said. "It's not what I was aiming for but third place is a decent spot for being a first time Mill Valley tennis player who has ever won a match on the main draw at state."
Segura Trujillo began his tennis career five years ago in Cancún, Mexico, his hometown. After two years of training, he won his first state championship in 2010 and since then has won state three times in a row.
Segura Trujillo said that tennis has taught him determination.
"Tennis has taught me that perseverance, mentality and hard work will always help you to achieve your goals," Segura Trujillo said.
Trujillo's record for the Jaguars this season is 22-2. On Monday, May 6, Trujillo competed in tennis regionals and earned the number two seed at state.
Senior Joey Perkins said that the team appreciates Segura Trujillo's experience and advice that he brings to the team.
"It's great having Rafa on the team," Perkins said. "He's actually so good that he can offer helpful hints whenever other guys are playing, making everyone else on the team better."
Segura Trujillo wants to go to college for tennis, for which he has already been offered different scholarships. Segura Trujillo said that Emporia State seems to be his best option, offering an approximate 65 percent scholarship with academics included.
"Hopefully I'll do good in college and see what the future has prepared for me but always work hard to achieve your goals because if it's easy, it's not worth it," Segura Trujillo said.
Segura Trujillo enjoys the sport because of the competitiveness.
"I really like tennis because I have always been an extremely competitive person and I enjoy training hard to be able to get better every single day," Segura Trujillo said. "But nothing can compare to the feeling of winning and knowing you that you're better than the person in front of you."
Some struggles that he has had to face while playing tennis is the strict schedule and lack of free time. He has also had to miss out on numerous social events and has a hard time keeping a girlfriend.
"Tennis affected my life in so many different ways because a lot of times I couldn't go and hangout late in the night when I had games in the morning," Segura Trujillo said. "Also it was hard to have a girlfriend because of the hard schedules in which I was training four hours a day."
Although he has had to sacrifice some things for tennis, Segura Trujillo has learned that confidence is key when it comes to tennis.
"Sometimes people think I'm cocky but I think that that's the key of success for a tennis player," Segura Trujillo said. "Have confidence in yourself and never be intimidated by anyone because you have to always believe that you can beat the person in front of you and not over estimate your opponent."
(Visited 56 times, 1 visits today)