Football team takes down St. James Academy 27-7
The team's goals set in practice were executed in the game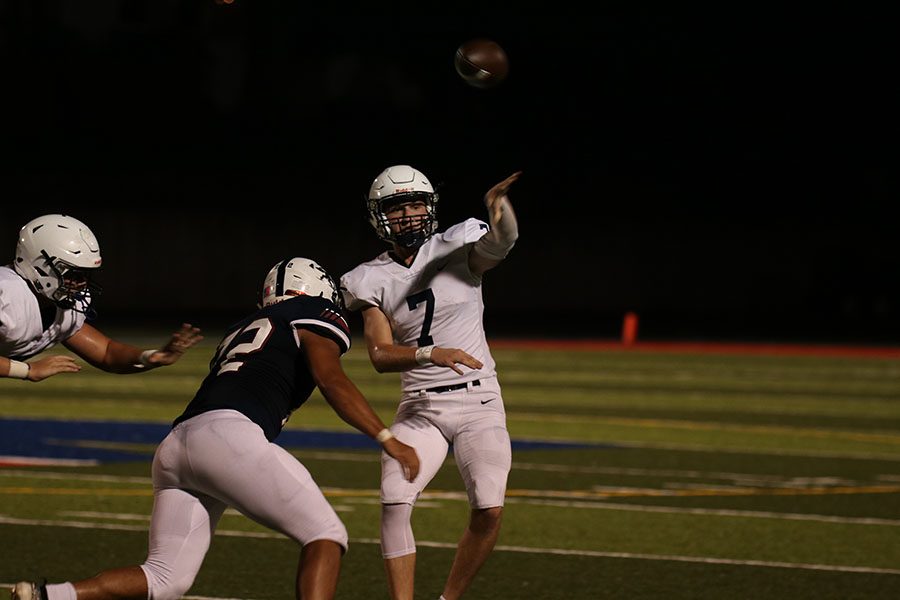 The football team defeated St. James Academy 27-7 Friday, Sept. 13. From the end of the first quarter, the team held at least a seven point lead against the Thunder until the end of the game. 
Playing their rivals, defensive line coach Aaron Cox believed the rival game would have a positive outcome, even before they arrived. 
"I knew it was a robbery game going in, as we know St. James [and how they play]," Cox said. "You [have] to play hard and that is exactly what we got." 
In the final five minutes of the game, the defining play of the game was made by junior running back Quin Wittenauer, according to junior quarterback Cooper Marsh. 
"[The best play was] when Quin put in that last touchdown," Marsh said. "It was awesome.
We all came together, defense did their job, offense did their job and we got the win." 
Looking back on what the team had been working on, Cox noticed the goals made at practice in motion at the game.
"I think that it was a team win," Cox said. "So obviously, all the guys doing their job and working hard, I think that showed tonight."
Looking ahead, Marsh is ready for the team's next game, this time with home field advantage. 
"Lately, we [have been] looking to get better every play and taking it week by week," Marsh said. "For the next game, I'm ready to beat Bishop Miege on our own field for homecoming."
(Visited 364 times, 1 visits today)