Football falls to Staley in first loss of season
Jaguars fall to the Staley Falcons 28-21, bringing record to 4-1
Tori Aerni, JagWire editor-in-chief
October 6, 2015
The football team encountered its first loss of the season on Friday, Oct. 2, falling to the Staley Falcons 28-21 in the annual Pink Out game to raise awareness for breast cancer.
Head coach Joel Applebee said the team's offense worked with what they could and gave credit to the strength of Staley's defense.
"We've always been an offense of we take what the defense gives us," Applebee said. "That's always been our philosophy. We knew Staley's front seven was probably the best front seven [we've] seen."
The Falcons took the lead early on with a touchdown pass, but the Jaguars struck back with two touchdowns — each completed by a pass from senior quarterback Logan Koch to senior wide receiver Lucas Krull. Both extra point attempts by senior kicker Andrew Hicks were good. The first quarter ended 14-7, Jaguars.
Staley controlled the second quarter adding two additional touchdowns to the board; both extra points were good. At the half, the Jaguars trailed 21-14.
While the Jaguars trailed at half, senior defensive back Chase Midyett said small mistakes did not help the team come back in the second half.
"The team's mentality [at the half] was 'this is our game', we're a second half team, we can win … no matter what the score is at half," Midyett said. "Just a few mistakes here and there, that's about it."
The Jaguars held the Falcons from another touchdown until there was 5:24 left to play in the third quarter, extending the Falcons lead to 28-14. Only minutes later, the Jaguars came back with a touchdown pass from Koch to senior wide receiver Christian Jegen. After a successful extra point by Hicks, the third quarter ended 28-21, Falcons.
The fourth quarter began with an interception by senior linebacker Seth Burnett, but no points were scored in the remainder of the game.
Despite losing, Midyett said motivation can be found within this loss.
"It's going to motivate us," Midyett said. "We hate losing. It's going to motivate us to push harder, practice better, and play faster."
The Jaguars will play the Lansing Lions at Lansing on Friday, Oct. 9 at 7 p.m.
(Visited 9 times, 1 visits today)
About the Writer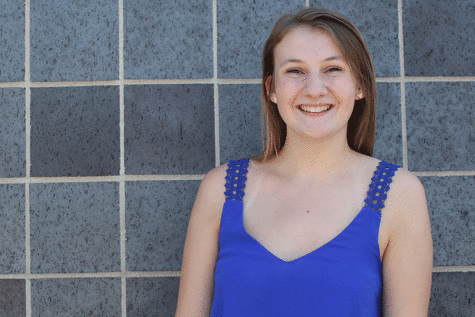 Tori Aerni, JagWire editor-in-chief
This is senior Tori Aerni's third year on the JagWire staff and her second year as an editor-in-chief. She looks forward to spending another year with the JagWire staff and putting out eight eye-catching issues of the paper. Aerni is also involved in NHS, SLT, Student Ambassadors and her church's youth group outside of the JagWire. She's a fan of concerts, the Kansas City Royals, chocolate milk and God. Her favorite artists include Taylor Swift,...