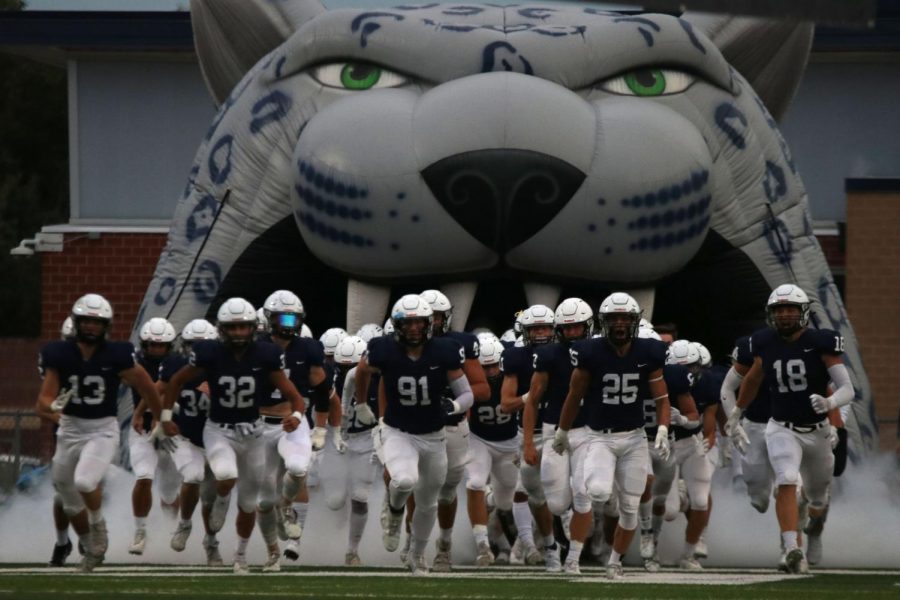 Football team defeats Lawrence High at Homecoming game
The team beat Lawrence High in Homecoming football game 21-14 Friday, Sept. 24
Entering the Homecoming football game, Mill Valley held an undefeated record of 3-0 against Lawrence High, who also claimed an undefeated record of 3-0. Their records gave fans reason to believe that there is a tough, yet exciting Homecoming game at stake.
With both teams undefeated, tension was high, but senior Kendrick Jones felt confident in the team leading up to the game. Jones acknowledged the gossip around his opponent, but never expected anything but a win. 
"There was a lot of talk about how good [Lawrence] was and they would have 'Lawrence Pride.' I looked at it like they were just another team in my eyes," Jones said. "I had a lot of faith that we would come out with the win because we practiced and prepared, and I had a lot of confidence going into the game knowing we were going to come out with a dub."
However, just two minutes into the first quarter, junior Hayden Jay scored the first touchdown of the game.
"It was a five-yard score, and I had to reach out in order to ensure I was all the way in the end zone," Jay said. "It was really great to score early to help set the tone for the rest of the game."
Entering halftime with Mill Valley in the lead 14-0, senior Cody Moore won Homecoming king and senior Hannah Hunter won Homecoming queen. 
"I couldn't believe that I actually won," Hunter said. "I feel excited and appreciated that I won. Knowing that my classmates voted for me also felt great."
Coming back strong into the third quarter, Jay threw the ball to senior Jared Napoli, who scored a 75-yard touchdown, bringing the score to 21-0.
"I just focused on not getting caught from behind. I kept peeking back to make sure no one was going to catch me." Napoli said. 
Shortly after Napoli's touchdown, Lawrence High claimed 12 points on the scoreboard. The game ended 21-12 with Mill Valley defeating Lawrence High.
(Visited 70 times, 1 visits today)