Football team beats Blue Valley North 38-7
The team dominated offensively en route to a blowout victory Friday, Oct. 4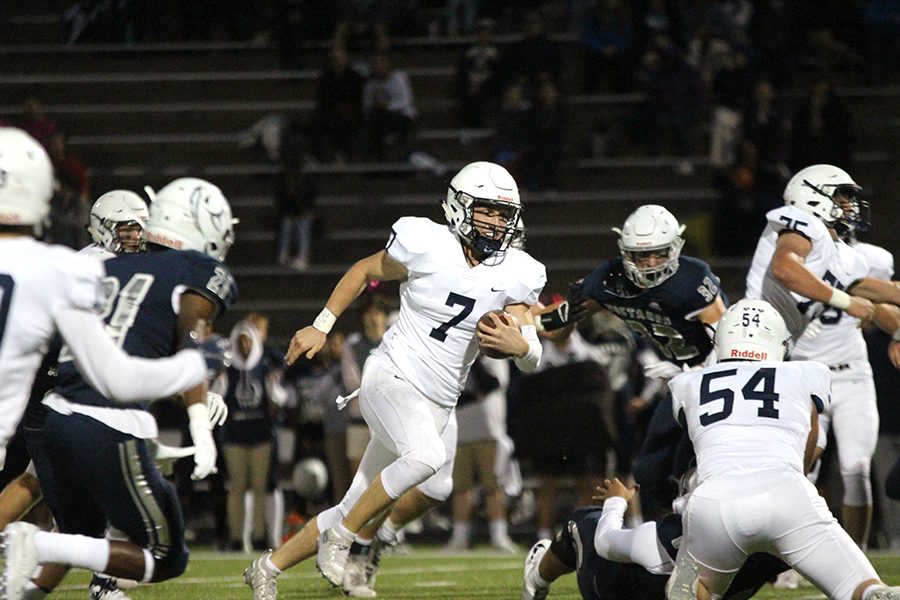 Steven Curto, Mill Valley News editor-in-chief
October 5, 2019
The football team won for the second time this season, beating Blue Valley North 38-27 Friday, Oct. 4. Mill Valley was successfully able to outgain BVN in total yards 398 to 243, and only turned the ball over once compared to the four last game against St. Thomas Aquinas on Friday, Sept. 27.
Vote for your Player of the Game vs. Blue Valley North!

QB Cooper Marsh finished with 211 passing yards and 3 TDs, WR Ty Reishus led receivers with 3 catches for 107 yards and a TD, and DB Grant Frost added an interception.

— Mill Valley News (@millvalleynews) October 5, 2019
Incredibly proud of the hard work the team put in this week, offensive line coach Terrale Johnson wants the players to understand that hard work pays off. 
"We've just been trying to change the mentality of what football is and if you do it Monday through Thursday it will show up on Friday," Terrale said.
Offensively, the team dominated the game. Quarterback Cooper Marsh led the offense and made plays happen, throwing for 211 yards and three touchdowns and tacking on 63 rushing yards. 
Wide receivers Ty Reishus and Jacob Hartman both scored touchdowns this game, with Reishus accumulating a total of 107 yards and Hartman picking up 70 yards.
Junior kicker Chris Tennant also made all six of his kicks, including three field goals. 
Tennant's goal for the rest of the season is to make every field goal and to have the opportunity to go to state. 
"My individual goal is to have a perfect season and not miss a field goal," Tennant said. "I've been kicking as much as I could at practice so I could be ready [for the game]."
While the team's offense was the focus of the game, the defense also made plays happen and blocked yardage advancements. Senior defensive back Grant Frost intercepted the ball and ran it to the thirty yard line, which led to receiver Zach Mills hauling in Marsh's third touchdown of the game. 
Frost believes that overall the game went as expected based off of intense training this past week the team that Coach Applebee had players do. 
"[I think I did] pretty well this game, I was happy with my own performance and the teams performance, Frost said. "At practice we've definitely been focusing a lot more and taking it more realistically rather than just kind of getting through the day we've been attacking every single rep and every single drill."
Overall, Reishus agreed with Frost that the team played well this game and connected it to better player mentality and dedication.
"As a team we just wanted to come out and just work hard, start fast and be physical," Reishus said.
(Visited 315 times, 1 visits today)
About the Writer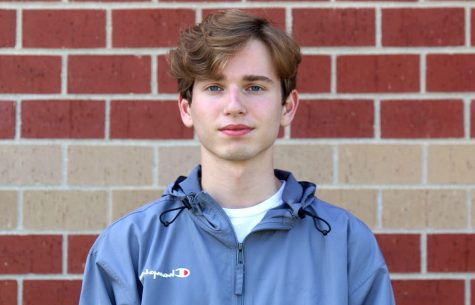 Steven Curto, Mill Valley News editor-in-chief
This is senior Steven Curto's third year on the JagWire staff. He is undertaking the position of Mill Valley News editor-in-chief. When he isn't occupied with the undertakings of running the website, Steven can be found doing various tasks as the president of Club 121, working at Panera on the weekends and doing homework for the numerous AP courses he enrolled himself in this year. When he's not busy working or being productive, he can be found...