Football team falls 35-14 to Derby Panthers
Jaguars become 0-3 after loss to reigning 6A state champions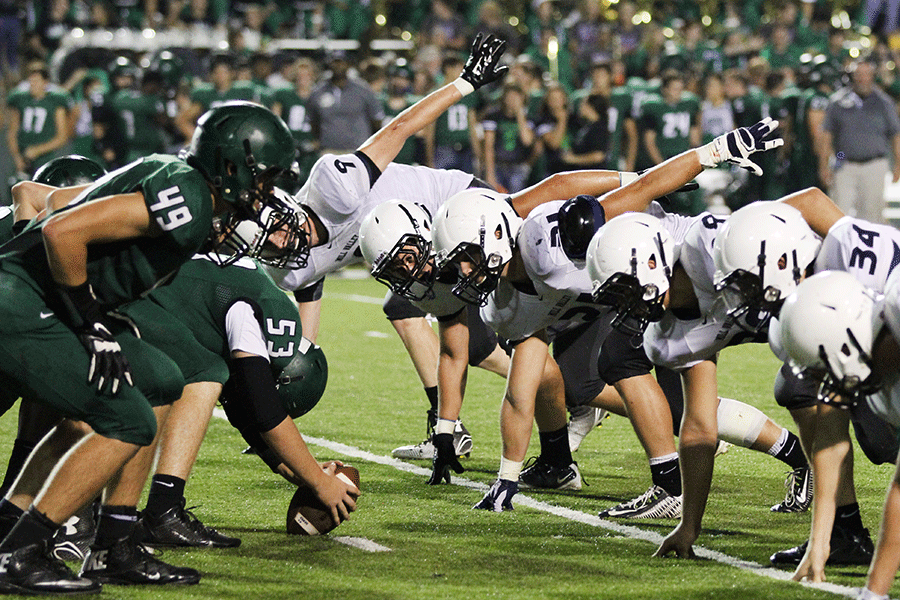 After taking on the reigning 6A state champions, the Jaguars fell short of a victory, losing to the Derby Panthers, 35-14. This loss brings the Jaguars record to 0-3.
The Panthers scored the first points of the game after a turnover on downs by the Jaguars. The extra point was good, putting the Panthers ahead 7-0, with 9:41 to play in the first quarter.
Only minutes later, junior kicker Andrew Hicks attempted a field goal for the Jaguars, but was blocked by Derby. With 6:58 to play in the first quarter, the Panthers took over at the 20-yard line. The first quarter ended with a punt by Hicks, giving the Panthers the ball to start the second quarter.
The second quarter was led by the Panthers, as they added 14 points to the board within six minutes, bringing the score to 21-0, Panthers. Their streak was quickly broken by the Jaguars to end the quarter.
An interception by junior safety Jack Nielson returned the momentum to the Jaguars. The team gave up a turnover on downs,  but got the ball back with a fumble recovery. The half ended with a 54-yard touchdown run by junior wide receiver Christian Jegen, and a good extra point by Hicks, Jaguars trailing 21-7.
After the half, the team came out with a positive mentality.
"Since we scored right before the half we felt like we were right back in it," sophomore quarterback Payton Marlow said. "If we kept up the way we were playing we could have come out on top."
In the second half, the Panthers continued to control of scoreboard adding two more touchdowns, making the score 35-7 with 3:05 to play in the third quarter.
The Jaguars had the last points of the game after carries by Jegen and Marlow. Jegen carried 7-yards, with an extra point attempt by Hicks good, to bring the final score to 35-14.
The team plays the Kansas City Southwest Indians on Friday, Sept. 26 at 7 p.m.
Marlow knows that the team has mistakes to fix for future games.
"As a team, we had too many mental mistakes," Marlow said. "But once we correct those, we'll be looking pretty good."
(Visited 43 times, 1 visits today)