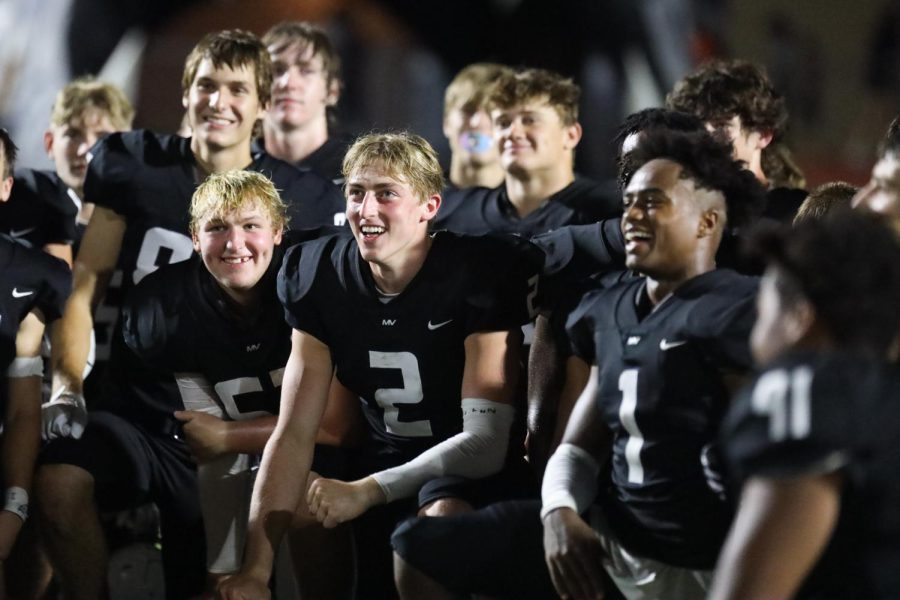 By Hailee Ford
Football defeats Shawnee Mission Northwest 51-0
The football team defeated the Cougars Friday, Sept. 16 for the Homecoming game
The football team kept their winning streak alive after defeating Shawnee Mission Northwest Friday, Sept. 16 51-0. The annual Homecoming coronation also took place during halftime of the game, where seniors Hayden Jay and Bri Coup were crowned as the 2022 Homecoming King and Queen. Senior Hayes Miller described the energy surrounding the game.
"Just going out there and being with my guys. So pretty much every play, it's a different feeling going out there and playing with a group of guys like that," Miller said. "As soon as we step out onto the field we have to go into a completely different mindset. We have to go out there and do our job, stop being the "nice guy" and do our thing." 
Additionally, junior Truman Griffith explained how this game being the Homecoming game impacted their preparations. 
"This game being the Homecoming game definitely pushes us a lot more to work a lot harder. Especially with all the preparation we did this week," Griffith said. "We watched a lot of film, made sure there was no stone unturned and made sure that we got everything right."
According to Miller, the team collectively plays with the goal of improving from the games from the previous weeks.
"We go out there every week and try to push ourselves to be better than last week. We try to be a better team and be better players all around," Miller said. "We prepared the same way we do every week. We try to do what we didn't do well last week as well as prepare for a win."
Overall, Griffith described his favorite play he did during the game and how he prepares himself mentally before games. 
"When I got my sack because it was a good play at the right time," Griffith said. "Before the game starts, I try to stay focused, try to stay calm and do my job on the field."
(Visited 73 times, 1 visits today)