Financial Aid and College Planning Night takes place
Representatives from Kansas colleges present information about scholarships and college application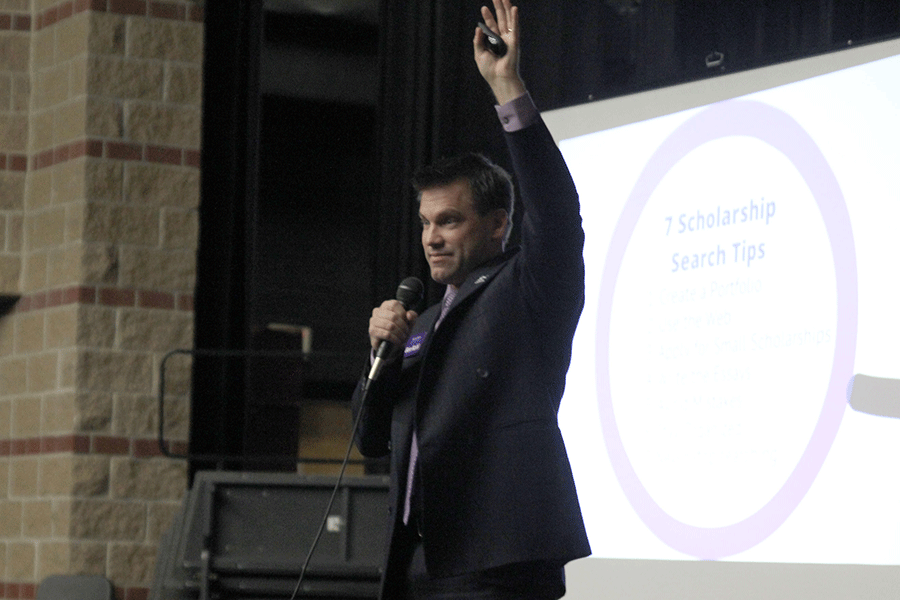 On Wednesday, Dec. 3, Mill Valley held its annual Financial Aid/ College Planning Night. This meeting offered students an opportunity to learn new information regarding the process of applying to colleges and obtaining financial aid by listening to presentations and asking questions. This year, representatives from both Kansas State University and the University of Kansas gave presentations.
Assistant director of Student Financial Assistance at Kansas State University Ben Kohl said presenting to the students and parents of Mill Valley for the first time was a positive experience.
"I was happy to see so many families theres with students from all grade levels, from 9th to 12th grade," Kohl said via email. "My goal was to provide students and their parents with information to help them academically and financially prepare for their higher education experience."
Junior Camille Gatapia said she attended the meeting to gain more knowledge of the college application process in general.
" I wanted to know more about paying for college since it'll be time to apply soon," Gatapia said. "I want a good idea of what I'm going to be getting myself into."
Director of Admissions at the University of Kansas Lisa Pinamonti Kress, who has presented at Mill Valley for the past 11 years, said she hoped those who attended left with a better understanding of how to apply and pay for college.
"I hope they took away some great tips and advice on how to prepare for college, apply for admission and scholarships, and the importance of visiting campus."
Kress' hopes were met. According to Gatapia, she acquired valuable new information.
"I learned that a really beneficial way to earn money is by looking for private scholarships," Gatapia said.  "since not very many people do."
(Visited 6 times, 1 visits today)