FCA holds monthly meeting
The meeting took place Friday, March 11, with freshman Cole Huffman sharing a message
The Fellowship of Christian Athletes (FCA) is beginning to hold monthly meetings for the first time since COVID-19 caused them to stop. Senior Lauren Walker shares more about this organization.
"Fellowship of Christian Athletes is a group of students that meet once a month for fellowship. The purpose of FCA is to bring the name of Jesus into the halls at our school," Walker said. "We hope to help each other grow in our faith as we meet each month."
Walker gave a prayer to start and conclude the meeting. Senior Ella Tow explains what else took place in this meeting. 
"At meetings we typically have a speaker who delivers a message and then we have time to talk with our friends and have discussions," Tow said. "To wrap up our meeting, we will have a prayer over the whole school."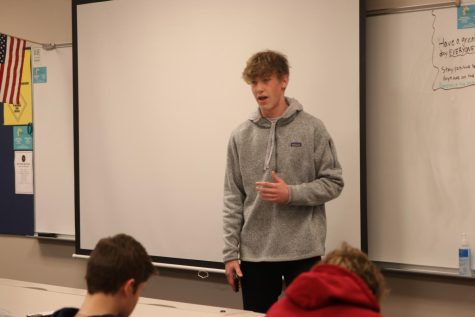 Tow shares some ways FCA has participated throughout our community. 
"The past two years we've done a 'meet you around the pole' event. This is usually held on a school day and we will meet around the flagpole with other FCA and Claim Your Campus groups and do a big prayer," Tow said. "We have also held many prayer walks on the weekends or other days to pray." 
As a fourth year member, Walker reflects on the growth this organization has had the last four years.  
"My favorite part about FCA has been watching it grow since my freshman year. It began as a group of about 8-10 students and now we have around 30 students at each meeting," Walker said. "It is super cool that we get to meet with students who have the same foundation and it's comforting to know there is a group of students who will support each other."
(Visited 80 times, 1 visits today)