Fashion blog allows math teacher Sarah Sides to express her style
Students inspired Sides to construct a fashion blog to share her passion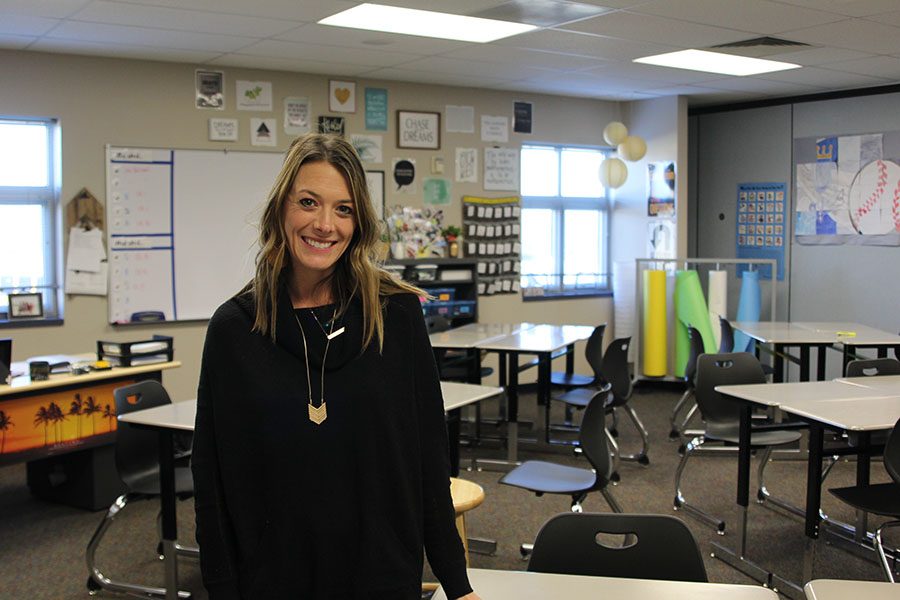 Gabby Cabrera, JAG reporter
February 2, 2018
Posing for her daily selfie, math teacher Sarah Sides posts her outfit of the day on her Facebook blog "School in Style," a fashion blog she started in mid-October.
Sides initially became interested in clothes and shopping in her early teens.
"I think it's just a pretty natural thing for most girls to like shopping," Sides said. "For me, when you feel good about what you're wearing, you feel better about yourself."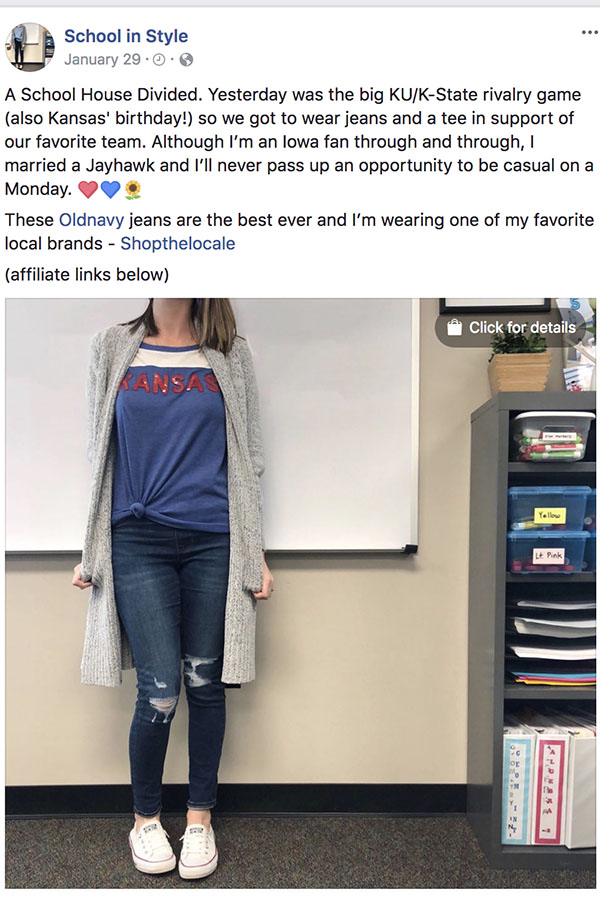 In the fall of 2017, Sides decided to create her own fashion blog from the influence of her students.
"I had one particular class that complimented my outfits, saying I looked cute and they liked my outfit," Sides said.
Students in her class use her influence of fashion for their own.
"I love her blog," Poje said. "I like that I can get inspiration from her and put some aspects of her blog into my own style. Sometimes before class we'll talk about her passion for fashion."
When first starting, Sides had no particular goal or expectation for the blog, but with the support of others, she believes it became successful and disproved common stereotypes.
"I had zero expectations for my blog," Sides said. "It's more to prove that I can be both smart and cute, because when I was growing up, it was either intelligence or beauty, but I prove you can be both."
After following other bloggers on social media, Sides gained inspiration for her own content.
"I'm not one to watch fashion shows or read fashion magazines," Sides said. "I like following teacher style accounts and popular fashion bloggers to give me ideas for my own blog."
By starting her blog, Sides hopes to inspire others.
"I like to show people that clothing can be affordable but still trendy," Sides said. "I usually get my clothes from Old Navy and Target which proves even more because I'm a teacher on a teacher's salary."
To suit her personality, Sides wears a mix of comfortable and cute styles to post on her blog.
"There's always a stereotype for how someone should dress," Sides said. "But for me, I just like clothes."
(Visited 98 times, 1 visits today)