Fall sports start off strong
Fall sports have kicked off and seasons look promising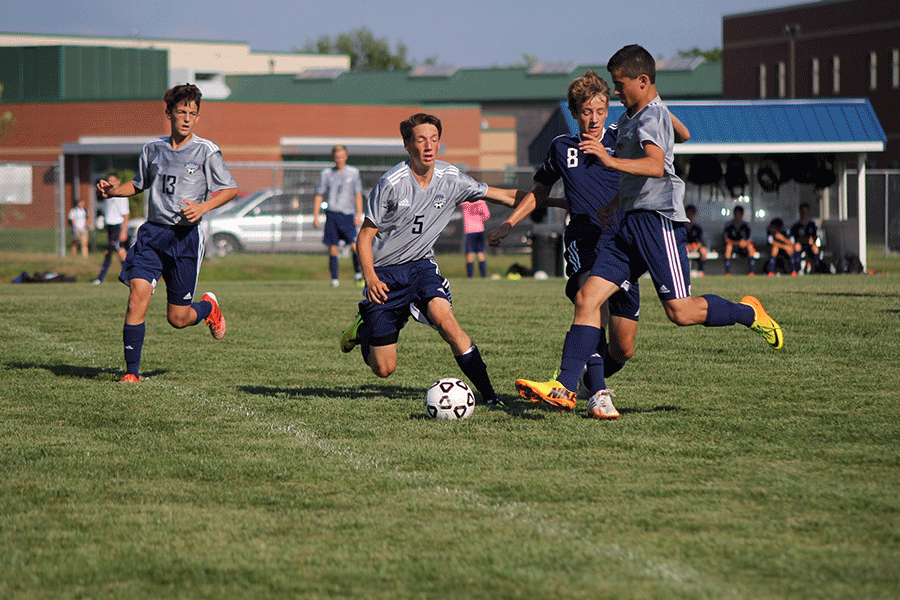 Fall sports are in full swing with multiple games and the annual Mill Valley Night Lights having taken place in the past week. Here's a look at the upcoming season in each fall sport.
Football
The football team is back in action tonight at home kicking off at 7:00 p.m. against the Saint Thomas Aquinas Saints.
The Jaguars return to the field after going 10-1 in the 2013 season, going undefeated in the Kaw Valley League. The team ended it's season in Sectionals after a 38-0 loss to the Blue Valley Tigers.
After losing 26 seniors, the team has many top returning players including:
senior offensive lineman Evan Applegate
senior wide receiver Zach Deverill
senior defensive lineman Sebastian Uriarte
senior running back Isaiah Young
senior linebacker Conner Kaifes
senior linebacker Bryan Burnett
junior quarterback Logan Koch
junior wide receiver Christian Jegen
junior offensive lineman Ben Hecht
junior defensive lineman Anthony Brown
junior kicker Andrew Hicks
Volleyball
After making an appearance at state for the second year in a row, the Lady Jaguars return with new head coach Debbie Fay. Returning varsity players include senior Maddie Little, junior Catie Kaifes, junior Alicia Pickett, and junior Lizzy Eber.
The team started its season with a win against the Leavenworth Pioneers. The Jaguars beat the Pioneers in two games, 25-15 and 25-12.
The Lady Jaguars will play in the Olathe South tournament on Saturday, Sept. 6.
Cross Country
The cross country team started its season off with a first and second place finish for the boys and girls teams, respectively, at the Shawnee Mission South Invitational on Thursday, Sept. 4. Junior Derek Meeks placed first at the meet, and continues to be a strong runner for the team. Other varsity members to watch include seniors Kurt Loevenstein and Callahan Eckardt for the boys team and senior Margo Wieschhaus and junior Amber Akin for the girls.
The team continues to be coached by head coach Mark Chipman, but Betsy Meeks starts her first year as a co-head coach and Katherine Wilber joins as an assistant coach.
The team's next meet is on Saturday, Oct. 13 at Paloa.
Boys soccer
On Friday, Aug. 29, the boys soccer team began its season with a team scrimmage. Varsity has played two games and have a 1-1 record, beating Shawnee Mission North and falling to Shawnee Heights.
The soccer program made the addition of a C-team, increasing the number of athletes to 53 this year.
The team plays a home game against Gardner-Edgerton on Saturday, Sept. 6 at 1:00 p.m.
Girls Tennis
The tennis season started on Thursday, Aug. 28 in a dual against Bishop Miege. While the team has a record of 3-2-5, two returning members are showing lots of potential. Senior Mikaela McCabe finished with a 14-8 record last season and junior Paige Wiebe finished 11-11.
Head coach Alyssa Meyer is excited to see what the team will do this season with lots of young players.
"We are just getting started for the season," Meyer said. "My goal for this season is to get the new girls a lot of experience here in the regular season."
Girls Golf
The girls golf season has had a strong start. The team has already competed at two meets and placed first at both.
The varsity team competes next at an invitational hosted by Shawnee Mission South. The invitational will be held at Deer Creek Golf Course on Tuesday, September 16.
Head coach Jack Johnson is pleased with the team's success in its first two meets.
"So far, we've had a good showing," Johnson said. "I think the girls are playing not to their potential, but they're playing close to it. I think that they have done a good job of setting the expectation high for the program."
Although the team has graduated three members: Laurel Knust, Bailee Flaming and Krista Brewer, younger golfers have stepped up to take their place.
This makes Johnson optimistic about the future of the team.
"I think the future is strong because we have a strong sophomore class," Johnson said. "And with freshman Bella Hadden who's already placed third place and fifth place at our first two meets, our future looks bright."
(Visited 70 times, 1 visits today)