"Eternal Atake" is a great album but didn't live up to the unreasonable hype
The two-year delay created standards that overshadow a fantastic album from Lil Uzi Vert
After a two-year delay, Lil Uzi Vert released the highly anticipated album "Eternal Atake" on March 6, The album includes the classic Uzi themes of flexing and love. Uzi divided the album into three different parts that correspond with his alter egos. The first section, tracks one through six, are the Baby Pluto section. Baby Pluto is Uzi's more aggressive side, and the songs show this. The second section, Orenji, which is Uzi's sweeter side, is tracks seven through 12. The last section, tracks 13 through 18, are called Uzi. Also, the first half of the album was made to represent Uzi's takeoff into space and the second half is supposed to represent Uzi partying in space with two aliens.
Section One of the Album: Baby Pluto
Baby Pluto is the best section of the album. It is more aggressive and features the best beats on the album. Nearly all of the songs in Baby Pluto are going to be hits.
"Baby Pluto" is the perfect intro for "Eternal Atake." It introduces the new, faster Uzi. It also introduces Uzi's more aggressive alter ego Baby Pluto. It sets the tone for the next seven songs being hard-hitting bangers. The song itself has a great flow, features fantastic production and will also be one of many hits to come from "Eternal Atake." The song may also include a subliminal diss of Uzi's longtime friend and collaborator Playboi Carti. Uzi raps "Yeah, whole lot of, whole lot of red rubies on my neck," which may be a reference to Carti's highly anticipated album "Whole Lotta Red."
"Lo Mein" is an instant classic Uzi song, and it's just the second song of the album. It is a fun song featuring a lot of flexing by Uzi. Uzi flawlessly dances along the beat and weaves together a hit.
On "Silly Watch," Uzi may be more aggressive on this song, but some things don't change, as Uzi is still rapping about his beloved watches. The song starts off loud and fast, which is a great change of pace from the end of "Lo Mein." This song is another surefire hit among rap fans.
POP" somewhat reminds me of "444+222." Uzi is very aggressive on a loud and continuous beat. It isn't going to appeal to every music fan as it is very repetitive and a little bit too long. However, Uzi fans will be satisfied with listening to this song in moderation, as it features multiple quality verses and good production.
Uzi shows off his unique skill set on "You Better Move." The song sampled sounds from the video game "Space Cadet 3D Pinball." Uzi is able to use the weird beat to make another banger, something most artists would not be able to do. Uzi also flexed in a very interesting way comparing himself to mother goose.
"Homecoming" is the last song in the Baby Pluto part of "Eternal Atake." It is a rather stereotypical rap song, as it has a bass heavy beat and is basically Uzi flexing for three and a half minutes. However, the song is perfect for being played loud, meaning that "Homecoming" will be played in concerts, sporting events and blasted in cars for many months to come.
Section Two of the Album: Orenji
Orenji is my least favorite section of the album. It features great songs individually but together they tend to blend together.
"I'm Sorry" is the start of the Orenji part of "Eternal Atake." It is an apology to one of Uzi's ex-girlfriends, most likely Brittany Byrd, who has been referenced in other hit Uzi songs like "20 Min." Despite being a softer love song, it is still a great Uzi song. The listener sees more classic Uzi usage of melodies and a good chorus.
"Celebration Station" is a quick-hitting song that still features a chorus. It most likely won't be a smash hit but the choir in the back gives it an interesting tone and shows off the remarkable depth of the album, as even the songs that aren't going to garner significant commercial success are still very enjoyable to listen to.
"Bigger Than Life" is very similar to "Celebration Station." It again features a choir in the background. However, this song isn't quite as loud and aggressive as the previous songs.
"Chrome Heart Tags" is again much like the rest of the songs in the Orenji part of "Eternal Atake." It has great production from Chief Keef, features more weird space noises and is a classic Uzi song. It's a good song, however, the listener can get tired of the same type of song three or four times a row in this part of the album.
"Bust Me" is another hit, but like "Chrome Heart Tags," it sounds a lot like the previous three songs. It's a good and quick song but once again features a choir in the background.
"Prices" is the much needed break from the previous four songs. It samples Travis Scott's "way back." Uzi is back flexing in his classic nasally voice, which I believe is a good thing. This song is 2016 Uzi and, in my opinion, the best song in the Orenji part of the album.
Section Three of the Album:Uzi
The Uzi section of the album is basically just normal Lil Uzi Vert. It has a few of the better tracks on the album. It also features the two pre-released hits by Uzi, "Futsal Shuffle 2020" and "That Way."
On "Urgency" Uzi collaborates with singer Syd for the only feature on the whole album. It has a different feel than the rest of the album, as Uzi is singing about how he needs to find love. The interesting collaboration does surprisingly well but it almost feels like a bad second version of "The Way Life Goes," as it never features Uzi truly rapping.
"Venetia" is more of Lil Uzi Vert flexing. It fits very well with the rest of the album as it seems like a great balance form space martian Uzi and 2016 Uzi. It features the same kind of fantastic production as the rest of the album but Uzi isn't very aggressive and flows through the song very well. It also seems to fit well because Uzi says "I'm not from Earth, I'm from outer space."
"Secure The Bag" is another song that showcases Uzi's incredible talent and the depth of "Eternal Atake." First, Uzi shows his vocal range as he goes from sounding like Playboi Carti in one verse to sounding like Trippie Redd in the very next verse. This song is also not going to be a smash hit but is still an incredible song, which just shows how good this album is.
"P2" is the sequel to Uzi's 2017 7x Platinum hit "XO TOUR Lif3." It is crazy that while I was listening to this song I didn't even realize it was a remake until halfway through the song, it is that good. This song will be very popular but will most likely not attain the massive success of the original song.
"Futsal Shuffle 2020" is included as a bonus track to "Eternal Atake." "Futsal Shuffle 2020" is already a hit and reached number 5 on the charts in December. It's basically a 3-minute dance break before you can sing your heart on the next track, "That Way". 
The very next, and final song, on "Eternal Atake" is "That Way." On this track Uzi sampled the Backstreet Boys' hit "I Want It That Way." The song somehow works and is climbing the charts with all of Uzi's other songs.
"Eternal Atake" is most likely not worth the two-year hype it garnered, buy it is still a fantastic album and in my opinion better than Uzi's debut album, "Luv Is Rage 2." This album will be one of the best hip hop albums released in 2020 and its songs will dominate the charts for much of the year. I also feel like this is Uzi breaking away from the rest of the rap game. In "Eternal Atake," Uzi shows off his amazing talent to use different types of beats and his ability to make more aggressive rap songs. He also seemed to break away from being just another rapper by making numerous hits while only using one feature. Uzi's performance of "Eternal Atake" has me very excited for what he has in store for the years to come.
(Visited 284 times, 1 visits today)
About the Writer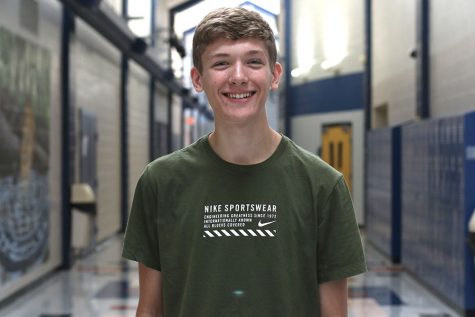 Zach Shrader, JagWire reporter/photographer
This is sophomore Zach Shrader's first year on the JagWire staff. He is taking on the position of reporter. Outside of newspaper, Zach is a member of the basketball team. In his free time, Zach enjoys hanging out with his friends, playing sports and listening to music.